The future of NFL could be enjoyed through the HoloLens headset
The NFL might see a HoloLens-powered experience in the future.

Published Wed, Feb 3 2016 4:17 AM CST
|
Updated Tue, Nov 3 2020 12:01 PM CST
While the HoloLens headset might cost $3000 and won't be for consumers, for the meantime anyway, Microsoft sees a bright future for its augmented reality headset with NFL.
Microsoft has just teased a new concept that uses the HoloLens for NFL, just in time for Super Bowl 50. The video shows how NFL fans could use HoloLens to enhance the football-watching experience, in the center of their living room. One example sees someone wearing a HoloLens headset, using gestures to pull up a 3D hologram of a stadium, showing detailed information like stadium attendance, and the weather.
Another example Microsoft used was with another person who used HoloLens to see live fantasy football stats, alongside motion graphics. Right now these are only concepts, but I think HoloLens has a very exciting future when it comes to Microsoft's relationship with the NFL.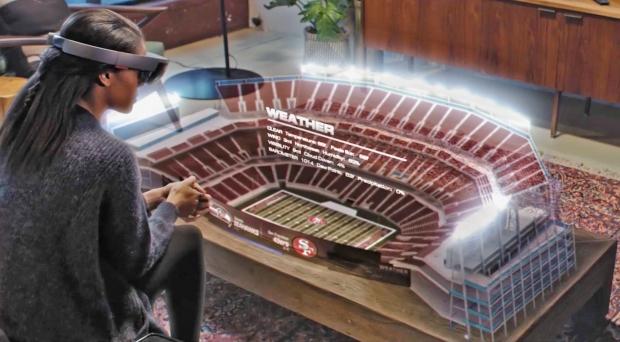 Related Tags