CES 2016 - We went eyes-on with the new Inwin H-Frame 2.0 case at CES, and it's a magnificent beast that needs to be experienced to truly understand it.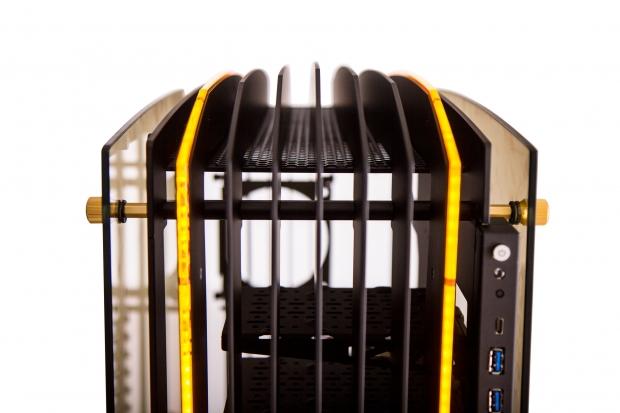 The new case is leagues better than the old case, and it's also Inwin's 30th anniversary, which means there's extra flair, though again it's in-line with the motif and not at all gaudy or out of place. It's monstrous when you step up to it, with a monolithic and ominous air that makes it seem like a monument. A monument to PC gaming, of course. But the cool orange lights are not out of place, nor are they too bright, but almost beckon you to take a look behind the tempered glass.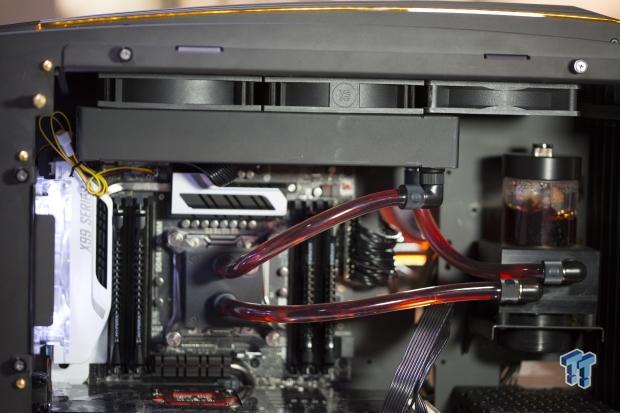 And inside is a vast landscape that's capable of holding nearly anything you could dream of. It's spacious with what looks like plenty of room to work in as well. But that's only part of why you'd ever buy this case. This is a unique and gorgeous case, a work of art that can't compare to very many other chassis' that exist out there. It's that uniqueness that draws you to it, and In Win is a master at crafting such beautiful cases.
The case's tempered glass window is tinted and mirrored in such a way that when the lights on the inside are turned-off, then it becomes a very shiny surface. When the lights are on, then you can see the components residing inside, though the low-light from the tint makes it seem mysterious and very high-end.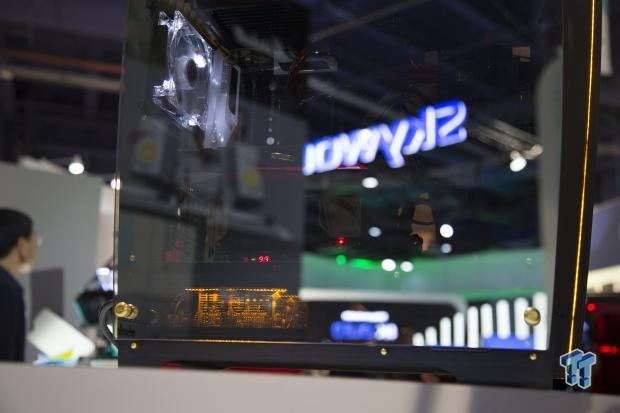 And the H-Frame 2.0 comes with a new product that'll be in their lineup, the Signature Series SII-1065W fully modular power supply. This is Platinum certified and carries on the same aesthetic as the H-Frame itself. The power supply itself is built completely in-house without the help of outside ODM's. This is part of their initiative to offer their own line of power supplies that are powerful and up to a Titanium certification. This 1065W unit also has a tempered glass side that makes the inside components visible when the internal LEDS are turned-on.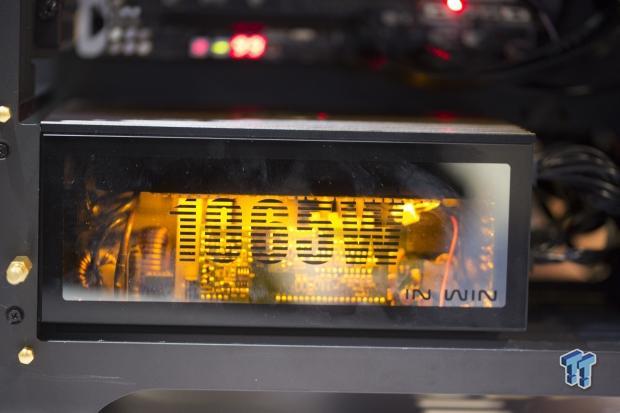 It's a sight to behold, and something that I'm sure that a lot of PC gamers are going to want to get their hands-on. Currently the case is still a prototype, and it wouldn't be far fetched to expect full RGB lighting replacing the orange in the future.
A note about the gold color. Usually it's gaudy and a little ostentatious, but here it actually has a strange and powerful appeal. The whole case has a powerful appeal, and again In Win makes another case that's desirable for many different reasons.