Lenovo ThinkPad X1 Tablet is also a projector, with Intel RealSense 3D
Lenovo ThinkPad X1 Tablet features a bloody projector! Lenovo, please don't change.

Published Sat, Jan 9 2016 10:25 PM CST
|
Updated Tue, Nov 3 2020 12:02 PM CST
CES 2016 - Lenovo unveiled its impressive new ThinkPad X1 Tablet, which features up to an Intel Core m7 vPro processor, up to 16GB of RAM and up to a 1TB PCIe-based SSD.
The display arrives as a 12-inch 2560x1440 panel, and like the Surface Pro 4 it is in the 3:2 ratio. Lenovo's latest slate is just 13mm thick, weighing 1.1kg with the keyboard attached. The keyboard can be magnetically snapped onto the tablet, without much hassle.
But where Lenovo takes it in a new direction is with the use of a pico-projector inside, featuring 50 Lumens of brightness. Lenovo says that it's enough to blast a 60-inch screen onto a wall around 2m (6ft) away. The 3D imaging module is an Intel RealSense 3D camera, which can be used for 3D scanning objects by playing them in front of the camera.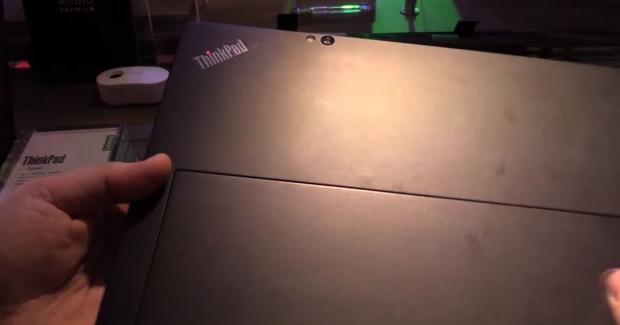 The Lenovo ThinkPad X1 Tablet has a Productivity module which adds another 5 hours to the battery life, but it also rocks a USB 3.0 port, an HDMI port, and OneLink port which can be connected to the professional dock.
Lenovo has also provided a USB 3.0 port, USB Type-C port, an audio jack, miniDisplayPort, a microSD card slot, and an LTE-Advanced slot, too.
Lenovo will kick off the pricing of the ThinkPad X1 Tablet at $899, with availability next month.
Related Tags