Facebook projects the 'disappearance of the phone number' in 2016
Facebook's VP of Messaging says phone numbers will soon be obsolete.
Published
1 minute & 0 seconds read time
Facebook is looking ahead to all of 2016 in its latest blog post, and in it, it spells the death knell of the ubiquitous phone number.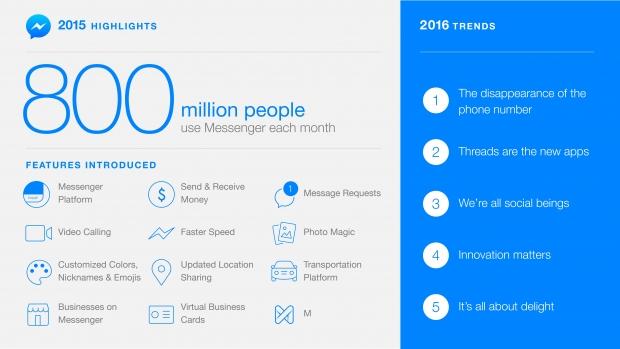 "Think about it: SMS and texting came to the fore in the time of flip phones," writes VP of Messaging Products David Marcus. "Now, many of us can do so much more on our phones; we went from just making phone calls and sending basic text-only messages to having computers in our pockets. And just like the flip phone is disappearing, old communication styles are disappearing too."
Marcus' feeling is that Messenger offers everything having a phone number does and then some, so having a phone number is no longer necessary.
"Yes, you can send text messages, but you can also send stickers, photos, videos, voice clips, GIFs, your location, and money to people. You can make video and voice calls while at the same time not needing to know someone's phone number. You don't need to have a Facebook account to use Messenger anymore, and it's also a cross platform experience - so you can pick up where you left off whether you're on a desktop computer, a tablet, or your phone."
Other focuses for Facebook this year include group messaging, AI, and interactions with businesses and services (e.g. buying a plane ticket, getting customer service, etc.).
Related Tags