Drunk Twitch streamer abuses her cat, gets banned and investigated
A Twitch streamer abused her animals on stream for the world to see. This left her account banned and her under investigation by PETA.
Published Sun, Jan 3 2016 1:49 PM CST
|
Updated Tue, Nov 3 2020 12:02 PM CST
There are a lot of steamers on a variety of services that have seem to have a gimmick added to their repertoire in order to attract an audience, being drunk just one of those tools. This particular streamer, Kneecoleslaw, wasn't just drunk while playing video games, but she was also abusing her cat as a result.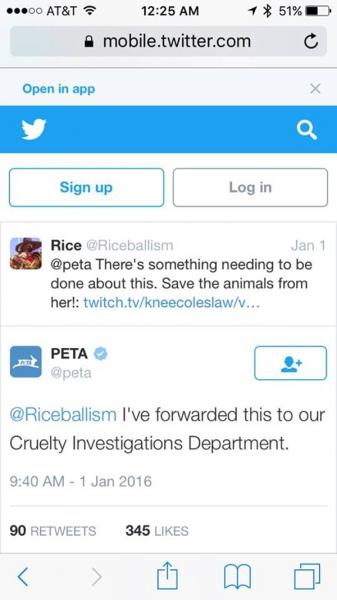 Certainly there's nothing wrong with a good gimmick that harmlessly engages your viewers and makes them laugh, that's the point of entertainment, to entertain. Kneecoleslaw seems to have taken her beloved activity a bit too far, however, and was at a point where she didn't even initially listen to her friends advice to stop abusing her cats. She's seen in the videos, posted below for those that don't wish to watch it, choking her animals until repeated pleas from a friend to let the cat go.
Kneewcoleslaw has been quickly banned by Twitch and the video was brought to the attention of PETA who have promptly began an investigation into the matter. PETA may not be the shining example of animal rights, but the issue could reasonably be brought to the attention of her local law enforcement or animal control. But really, this shows how drinking on stream can go from harmless gimmick to a serious issue in a very short amount of time. And this isn't even the worst example either.
Theoretically Twitch has changed their terms of service to ban excessive drinking. Of course viewers always have a choice of who to watch, and there are plenty of streams that mix in drinking in a casual manner that isn't intended to be a cheap stunt for more attention.
Related Tags