AMD 'adjusts' its dual-GPU launch plans to Q2 2016 for VR headsets
AMD delays its dual GPU, will launch it with the Oculus Rift and HTC Vive in early 2016.

Published Tue, Dec 22 2015 7:57 PM CST
|
Updated Tue, Nov 3 2020 12:02 PM CST
After promising that their dual GPU video card would be released in late 2015, AMD has delayed its Radeon R9 Fury X2. The reason? Because they expected the Oculus Rift and HTC Vive to be out in late 2015, but both VR headsets were delayed into early next year, forcing AMD to delay its dual-GPU efforts.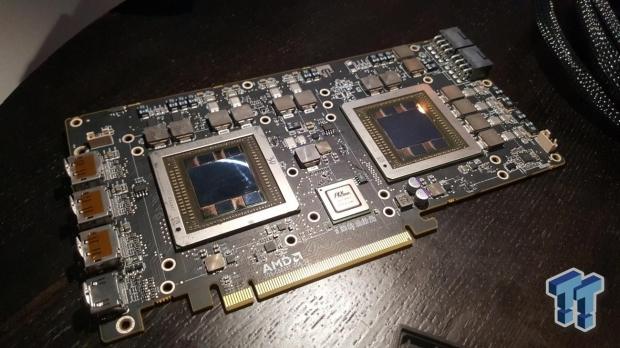 Hardware.fr talked with AMD, which said: "The product schedule for Fiji Gemini had initially been aligned with consumer HMD (Head Mounted Display) availability, which had been scheduled for Q415 back in June. Due to some delays in overall VR (Virtual Reality) ecosystem readiness, HMDs are now expected to be available to consumers by early Q216. To ensure the optimal VR experience, we're adjusting the Fiji Gemini launch schedule to better align with the market". AMD continued: "Working samples of Fiji Gemini have shipped to a variety of B2B customers in Q415, and initial customer reaction has been very positive".
AMD has reportedly sent out key people their new dual Fiji card, with these lucky people including DICE god Johan Andersson. We should expect AMD to show off the "Gemini" dual-GPU card at CES hopefully, but I think we're going to see an April-June launch - possibly at Computex in early June 2016.
Related Tags