Rez's haptic PlayStation VR suit makes Lawnmower Man tech a reality
Sony's PlayStation VR platform gets its first full-body haptic feedback suit, and it's absolutely amazing.

Published Thu, Dec 10 2015 11:44 AM CST
|
Updated Tue, Nov 3 2020 12:02 PM CST
As a kid, the Lawnmower Man movie fascinated me. I've always wanted to put on a suit and literally enter a video game, actually feeling the digital realm. With the advent of full-body haptic feedback suits like the one Rez creator Tetsuya Mizuguchi wore at the PS Experience, this long-awaited sci-fi dream is now a reality.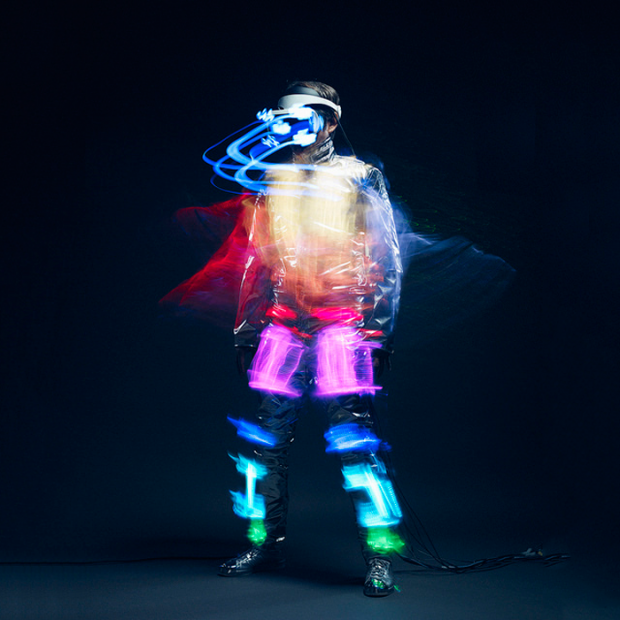 At this year's PlayStation Experience, Sony showcased a slew of VR-enabled games for its PlayStation VR headset. Aside from the games, the Japanese console-maker had something special to show off for Rez Infinite: a full-body VR suit. Tetsuya Mizuguchi walked on stage in what looked like a sliver astronaut getup, but it was actually a haptic-feedback Synesthesia Suit equipped with 26 actuated motors that pulsed to the rhythm of Rez's in-game music.
Attendees at the event were able to try the suit on for themselves, which led to explosive praise. One user said that the experience was drug-like, saying it was "absolutely exquisite" and the suit offered "total sensory immersion in a way that was never possible before without resorting to narcotics." After trying the Rez Infinite suit, Sony's own Shuhei Yoshida said that he "feels like a new person", and that he "sees the world differently now".
Haptic feedback suits and meshes aren't new to the realm of VR, and have been around since the immersion platform first manifested. Solutions like NullSpace VR's haptic suits aim to bring the sense of touch to the virtual world, offering a whole new dimension of VR interactivity. The Rez Infinite bodysuit might not be entirely new to VR, but it's a first for Sony's PlayStation VR, and we'll likely see a consumer-ready version of it shipped once the headseat releases in 2016.
Related Tags