Ubisoft's first VR game 'Eagle Flight' for Oculus Rift and HTC Vive
Ubisoft steps into the world of VR with its first VR game 'Eagle Flight' compatible for both the Rift and Vive headsets.

Published Wed, Dec 9 2015 12:33 AM CST
|
Updated Tue, Nov 3 2020 12:02 PM CST
Now that we know that the HTC Vive is dropping in April 2016, we have news of Ubisoft's first VR game 'Eagle Flight'. The name spoils what you'll be doing in the game, where you'll be an eagle flying over Paris, 50 years after humans have left the iconic city.
Ubisoft explains: "Nature and wildlife has taken back the city, creating a rich playground and offering an incredible experience of free flight and adventure". Ubisoft Montreal's Game Director, Olivier Palmieri said: "We're excited to make the dream of flying come true with Eagle Flight. Virtual reality has created new and amazing opportunities for game developers and we wanted to offer a full VR game that took full advantage of the technological advances. With the breakthrough we've been working on, we're confident Ubisoft's first game developed solely for VR will be a truly enjoyable experience for everyone who plays it".
Eagle Flight has been created specifically with VR in mind, so the developer has concentrated on accessibility and comfort. Ubisoft has developed its own VR control technology, a breakthrough that will reportedly allow players to enjoy Eagle Flight with intuitive and precise controls. Ubisoft's new VR control technology also reduces the chances of motion sickness but allows players to quickly hone their Eagle Flight controls to perform crazy stunts and experience the closest experience to true flight.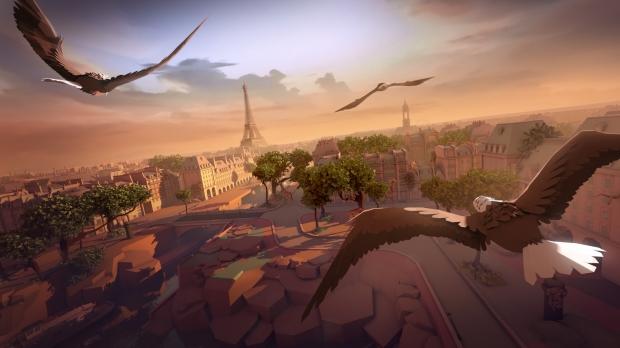 Related Tags