Intel calls their new Skylake CPUs their 'best CPU ever'
Intel launches the rest of their desktop Skylake CPUs.
Published Tue, Sep 1 2015 9:33 PM CDT
|
Updated Tue, Nov 3 2020 12:04 PM CST
As of August 9th Intel had shipped 1 million Skylake CPUs worldwide. The new CPUs will go on sale on September 1st in Asia and in 6 weeks will be available worldwide. While Intel already launched their K series Skylake desktop SKUs last month, they are now announcing the launch of their entire introductory Skylake lineup including both desktop and mobile segments.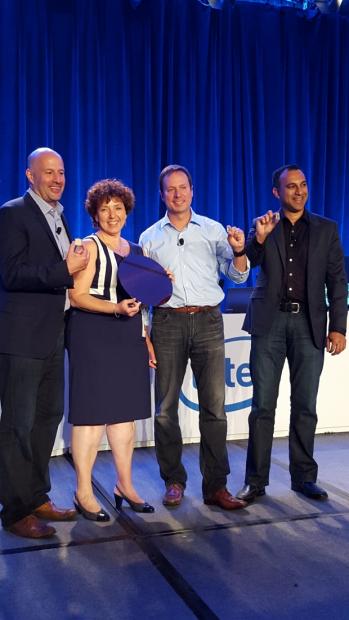 Intel predicts that Skylake will last approximately 4 years, meaning that we should expect even more SKUs in the future. A lot of microarchitecture information was disclosed during technical sessions at IDF and I already wrote that up here.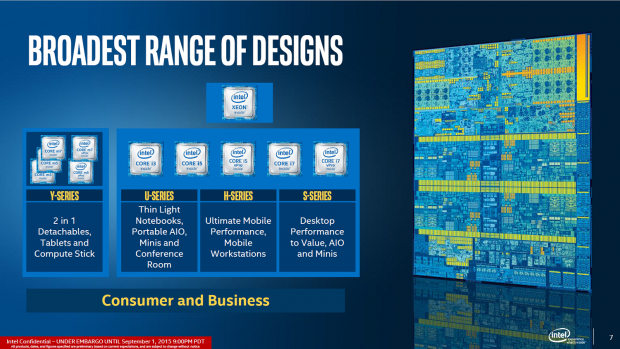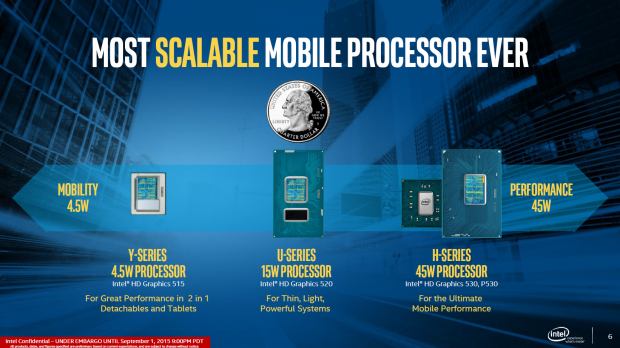 Skylake features a broad range of designs. The microarchitecture can scale all the way from Y-Series mobile chips (SoC) all the way to Xeons and powerful desktop models. The new lineup will feature a Y-Series for tablets and compute sticks, a U-Series for mini PCs and notebooks, an H-Series for more powerful mobile devices, and the S-Series for desktop. The desktop SKUs will maintain the same Core i3/i5/i7 naming scheme. The CoreM lineup has been further segmented into Core M3/M5/M7 to better identify performance and power packages.
45W Mobile SKUs: Xeon and K Series Processors Included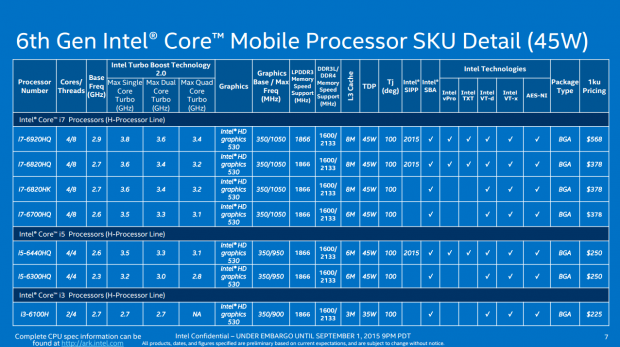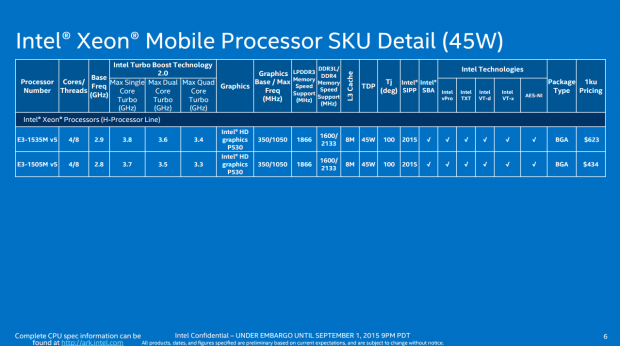 Intel is launching seven Corei7/i5/i3 mobile processors with a 45W TDP. The i7-6820HK will be overclockable by the end-user or pre-configured by the manufacturer. All these SKUs feature support for DDR4 and DDR3L memory. Two Xeon mobile SKUs are also being launched bringing workstation features to the mobile arena.
28W Mobile SKUs: Featuring Iris 550 Graphics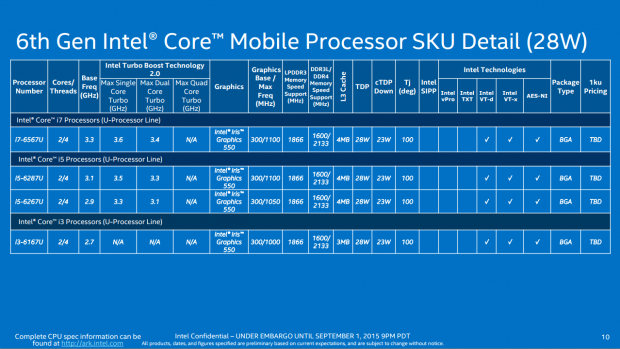 A single i7, two i5, and a single i3 SKU will feature the top Iris Graphics 550 with 22nm eDRAM.
15W Mobile SKUs: Featuring Iris 540 Graphics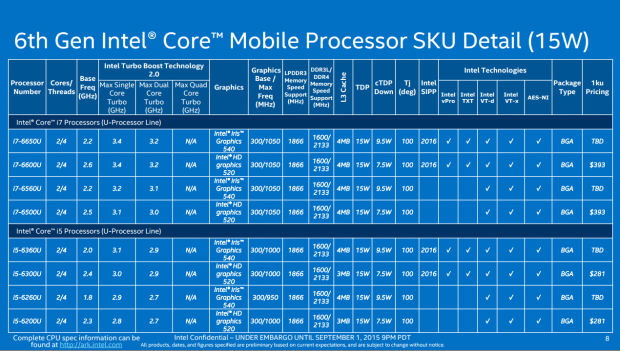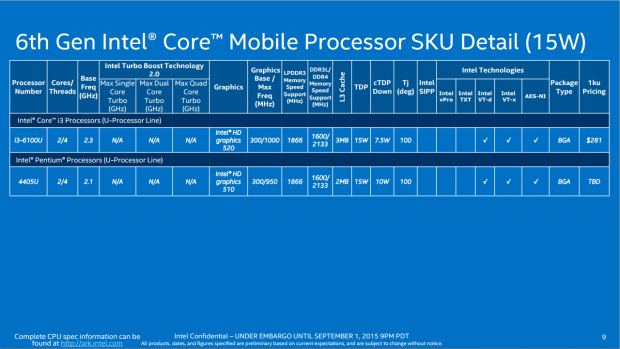 Intel is launching ten 15W mobile SKUs supporting DDR3L and DDR4. Four i7 and four i5 SKUs are complimented by a single i3 SKU and a single Pentium SKU. Two i7 and two i5 SKUs will feature Iris Graphics 540 with eDRAM. The new integrated graphics will support the RAW format in 4K with fixed function 4K units. For the first time both Iris and Iris Pro will feature eDRAM (same 22nm as Broadwell).
CoreM SKUs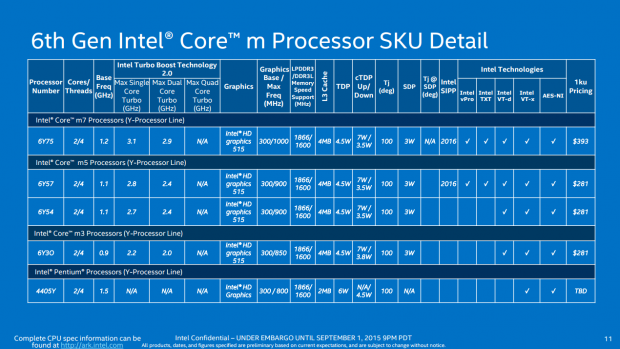 Intel is launching five CoreM SKUs. The Core m3/m5/m7 will feature a 4.5W TDP, DDR3L and LPDDR3 memory support, and into HD515 integrated graphics. There is a single CoreM Pentium SKUY at 6W.
65W Desktop SKUs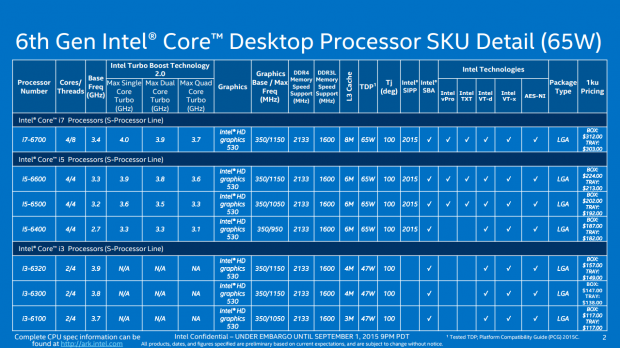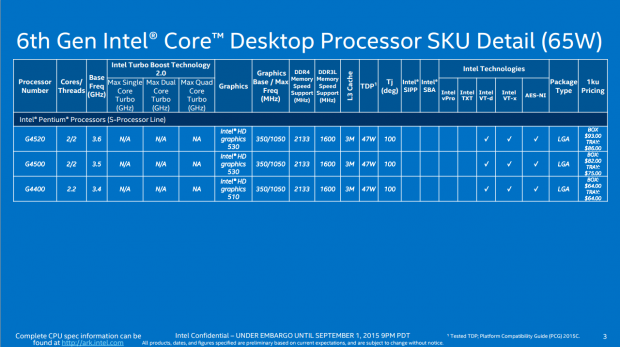 Intel is also launching 10 new 65W desktop SKUs including three Pentiums, one i7, three i5s, and three i3s. All will support DDR3L and DDR4 memory and all are LGA1151 compatible.
35W Desktop SKUs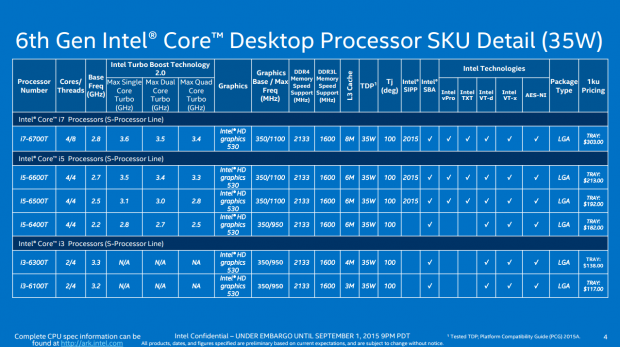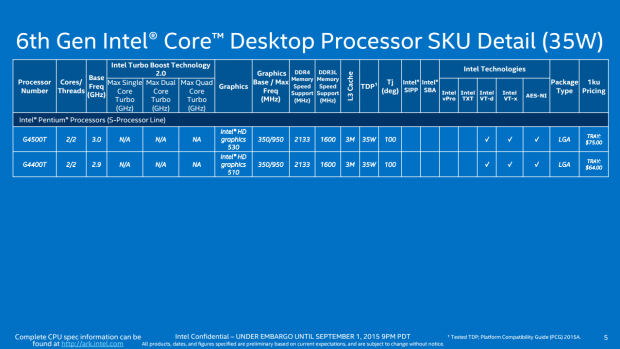 Intel is also launching eleven 35W desktop SKUs. This includes two Pentiums, one i7, three i5s, and two i3s. All support DDR3L and DDR4 memory, and all are LGA1151 compatible.
Related Tags