Synology's new NAS systems can support over 1000TB (1PB) of storage
Synology announces the new RS18016xs+ and RX1216sas, business-focused NAS systems.

Published Thu, Jul 2 2015 8:01 AM CDT
|
Updated Tue, Nov 3 2020 12:05 PM CST
If you thought the 24TB+ NAS systems we're seeing these days were good, Synology has just announced two new business-focused NAS systems that will blow you away. The new RS18016xs+ and its expansion unit RX1216sas have some insane expansion capabilities, and more.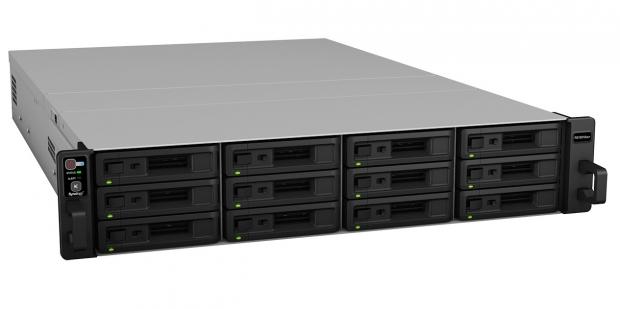 Synology's new RS18016xs+ is capable of 3.9GB/sec with 348,000 IOPS, which is just insane. On top of that, if you're using encrypted share folders, it's still capable of pumping out over 3GB/sec, meaning you can have super-secure data, with huge performance. The new Synology RS18016xs+ native supports SATA 6Gbps and SAS, and can be upgraded all the way up to 32GB of ECC RAM, and 10GbE, with the RX1216sas providing a next-gen scale-up system capable of stacking 14 of the RX1216sas expansion units together, delivering a 180-drive cluster.
The full run down on Synology RS18016xs+ systems:
Extreme performance: providing over 3,900 MB/s and 348,000 IOPS throughput, the RS18016xs+ effortlessly provides storage and application serving to hundreds of users. With a dedicated encryption engine, the RS18016xs+ boasts over 3,000 MB/s reading on encrypted shared folders, ensuring data security without any major performance drop.
Point-in-time data recovery: The RS18016xs+ brings snapshot technology which allows businesses to automatically capture point-in-time copies of data as frequently as every 5 minutes without occupying system resources. Customize the retention policy to save up to 256 recovery points on an hourly, daily, or weekly basis.
High uptime: With support for Synology High Availability, as well as numerous redundant hardware components including: redundant data paths, power supplies, system fans, and four network ports with failover support; the RS18016xs+ maximizes service uptime.
Future-ready: The RS18016xs+ natively supports 6Gb/s SAS/SATA III technologies and can be upgraded with up to 32GB ECC RAM and 10GbE capabilities to ensure maximum compatibility and return on investment.
Seamless scalability: when storage capacity on the Synology RS18016xs+ reaches its limit, Synology RX1216sas provides an easy way to immediately scale up. Stacking up to 14 RX1216sas expansion units creates a 180-drive cluster managed from a single point of entry.
Related Tags