Apple's new MacBook has performance of the MacBook Air from 2011
Apple's Retina MacBook and its Core M processor see it being as fast as the 2011 MacBook Air according to early benchmarks.

Published Thu, Apr 2 2015 1:39 AM CDT
|
Updated Tue, Nov 3 2020 12:08 PM CST
Apple's new Retina MacBook doesn't reach consumers until April 10, but we are now looking at some early 64-bit Geekbench benchmarks of the Core M-powered laptop.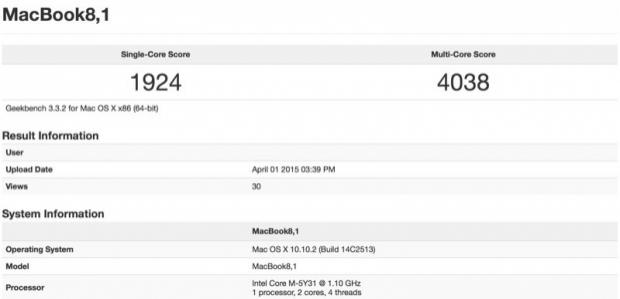 The Intel Core M-5Y31 processor is clocked at 1.1GHz, with someone running the benchmark twice, providing two single-core scores of 1924 and 2044. The multi-core benchmarks provided a score of 4038 and 4475. Comparing this to the entry-level 2015 MacBook Air with its 1.6GHz Core i5 processor, we've seen single-core results of 2881 and multi-core results of 5757.
Performance wise, we're looking at the new Core M-powered Retina MacBook being about as fast as the higher-end MacBook Air from 2011, with its 1.8GHz Core i7 processor. Graphics performance will most likely be better on the 2011 MBA, but we won't know that until benchmarks are performed on the new Core M-powered MacBook.
There are two processor upgrades consumers can choose for the new Retina MacBook, with the 1.1GHz processor being optioned out for a 1.2GHz or 1.3GHz part. The new Retina MacBook is Apple's thinnest and lightest notebook to date, with pricing starting at $1299 for the 1.1GHz/8GB/256GB model, and $1599 for the 1.2GHz/8GB/512GB model.
Related Tags