$10,000 spent on the Apple Watch gets you private 1-hour appointments
Buying the $10,000 Apple Watch Edition? You'll get 24/7 support, private 1-hour appointments and no waiting in those pesky lines.

Published Mon, Mar 30 2015 7:39 PM CDT
|
Updated Tue, Nov 3 2020 12:09 PM CST
When dropping $10,000 for Apple's first wearable, you'd want to feel special, wouldn't you? Well, Apple is explaining its Apple Watch Edition to its employees with high praise.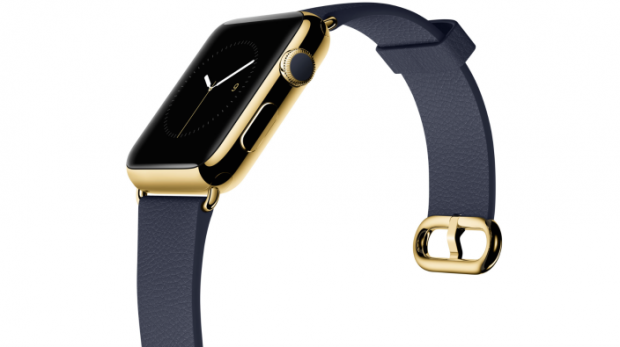 The company explains that the Apple Watch Edition is "the ultimate expression of extraordinary craftsmanship, incredible innovation, and design driven by functionality and end use... technology becoming seductive, with desirability not necessarily defined simply by a price tag or elitism, but rather meticulous focus on usefulness and utility rooted in beauty".
Anyone who purchases the Apple Watch Edition will secure themselves longer, private appointments - where you can have your own try-on table separate from those peasant Apple Watch and Apple Watch Sport wearables, where the purchasing process can last up to one hour. This try-on station will include a pair of stools for you too, with a nice try-on mat "like ones found in jewelry stores". The list goes on, and we're not even joking. Spending $10,000 will get you:
Longer, Private Appointments: Apple plans to complete in-store Apple Watch Edition purchases during special appointments within a dedicated, private Apple Watch Edition try-on area. The Apple Watch Edition will have its own try-on table separate from the Apple Watch and Apple Watch Sport, and the purchasing process will last up to one hour, including 30 minutes for simply trying on the highest end Apple Watch. (There will be 5 to 15-minute appointments for the other models.)
Generally Only Two Watches At Once: Customers interested in the Apple Watch Edition can try on up to two distinct gold models at a time; to reduce the risk of theft, employees will need to assess the store conditions before bringing a third Watch out simultaneously. If the customer wants to compare the Edition with non-Edition models, the Expert will be able to ask another Apple Store employee to bring over a couple of Sport and stainless steel models on a special "caddy" from the standard Apple Watch display table. Accessories will be offered after a customer has finished trying watches on, but before the purchase transaction is completed.
A Special Station and Chairs: Apple will have a special try-on station for the Apple Watch Edition, including a pair of stools for the customer, an Edition demo kit holding the watches, and a try-on mat like ones found in jewelry stores. Once the customer decides to purchase the Edition, it can be set up in one of two ways: in-store with the same Expert or via a new service called Virtual Personal Setup.
Virtual Personal Setup: Apple will allow a customer to video conference from home with an online Apple Store employee to learn about the Apple Watch. This program will be offered to both Edition and standard stainless steel Apple Watch buyers. However, Apple Watch Edition customers will be given an exclusive, dedicated Apple Watch Edition phone line for two years of 24/7 technical support (in English). With AppleCare+, this is upgraded to three years.
Contact Center Edition Team: Beyond using a telephone-based Contact Center to offer a personalized pre-sale experience to Edition customers, Apple will have a special Contact Center Edition Team with a dedicated phone number to schedule on-demand setup.
Courier-to-Store: As Apple has previously noted, walk-in and reservation-based Apple Watch Edition try-ons and sales will not be available at all stores. However, sources say that the Edition can be ordered online and delivered to any store the customer prefers through a special new "Edition Courier-to-Store" program, where a courier will deliver the Edition for try-on and purchase. Alternately, an Apple Store without Editions can schedule a try-on appointment for a customer at any nearby location with stock.
Largest Markets Only, At First: While Apple tells employees that the Edition will initially be exclusive to the company's "largest markets," the company also says that the device will roll out "gradually" to the rest of the company's stores. The aforementioned 24/7 Edition support will be in English only at launch, while the special line will be available in all markets in local languages at launch.
No Waiting In Line: Unlike stainless steel Apple Watch and Apple Watch Sport customers, those seeking to buy the Apple Watch Edition will not have to wait in a line. Sources say that potential Edition buyers will have priority access to assistance, effectively skipping the line of other waiting customers. Experts will be able to help a couple of customers try-on Watches simultaneously, unlike standard employees who will simultaneously help as many stainless steel and Sport customers as necessary.
Related Tags