Driverless Mercedes-Benz F 015 Luxury spotted on in San Francisco
Mercedes-Benz F 015 Luxury in Motion research car has been driving around San Francisco without a driver.

Published Mon, Mar 9 2015 3:39 AM CDT
|
Updated Tue, Nov 3 2020 12:09 PM CST
Someone has snapped pictures of the totally gorgeous Mercedes-Benz F 015 Luxury in Motion research vehicle, which is a driverless luxury vehicle. The company explains that it has "interdisciplinary team of experts from Mercedes-Benz has devised a future scenario that incorporates many different aspects of day-to-day mobility".
It looks like something out of a futuristic movie, but it is right-here-right-now technology. For those who don't know, the cabin of the car is absolutely beautiful, where it looks like it has been ripped right out of a science fiction movie or TV show. Mercedes-Benz explains the F 105 Luxury in Motion research car as "Sensual, flowing transitions and warm, organic materials such as open-pore walnut wood, which has been shaped to a three-dimensional veneer, and extremely soft ice-white nappa leather contrast with clearly-defined metal and glass surfaces with a cool and technical feel".
The Mercedes-Benz F 105 Luxury in Motion can travel up to 1100 kilometers (683.5 miles) to a single 'tank', which consists of an "electric hybrid system" that uses 200km on its battery, while 900km comes courtesy of the electricity of its fuel cell.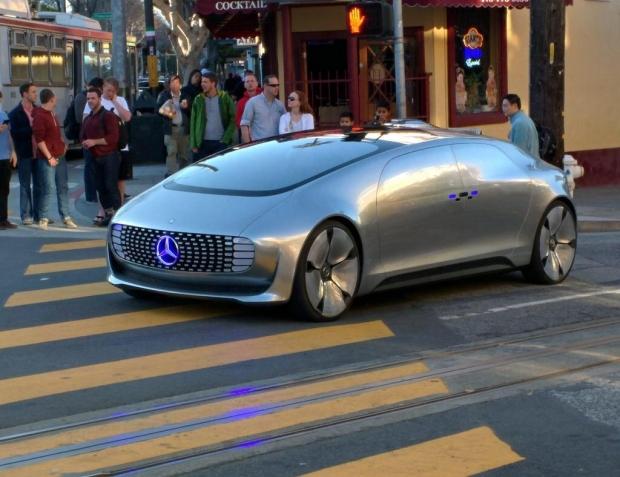 The company continues: "The transitions between organic, metal and synthetic materials have been designed using matrix graphics; and the flowing transitions deliver a new, unparalleled feeling of bounteous space. The light-coloured fine wood used for the floor, for example, flows almost imperceptibly into the cool Plexiglass of the side panels thanks to their unusual surface matrix. The transition between the vehicle floor and the door panels also echoes the outer body shape in a characterful way. The pivotal feature of the innovative interior concept is the variable seating system, with four rotating lounge chairs that allow a face-to-face seat configuration".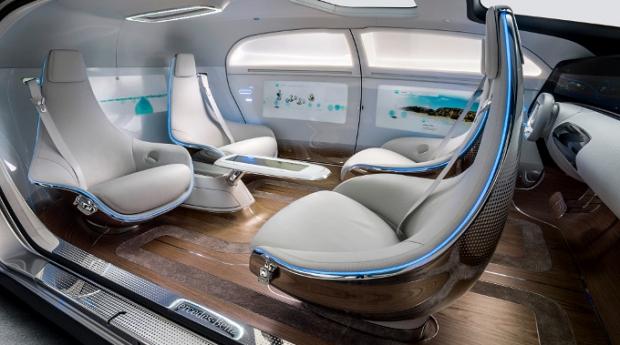 During my research into the driverless luxury car, one of the things that grabbed me is that travelling in this car would be perfect for those who, like me, need to work on-the-go. Mercedes-Benz explains that the interior is a "digital living space", continuing "One core theme of the innovative interior concept is a continuous exchange of information between vehicle, passengers and the outside world. Six displays are installed to this end all around, tastefully mounted in the instrument panel and the rear and side walls, making the interior of the F 015 Luxury in Motion a digital living space - a perfect symbiosis of the virtual and the real-world. Passengers are able to interact intuitively with the connected vehicle by means of gestures or by touching the high-resolution screens".
Related Tags