Patriot launch their second generation of magnum and rage flash drives
Patriot release their world's-fastest high-capacity flash drives. Featuring rugged designs, read speeds of 400 MB/s and up to 512GB in capacity.
Published Wed, Jan 7 2015 3:38 AM CST
|
Updated Tue, Nov 3 2020 12:11 PM CST
If quick and easy storage is on your mind, Patriot have just announced the release of their next-generation Supersonic Magnum and Rage USB flash drives. Both of these products feature USB 3.0 capabilities and massive storage options.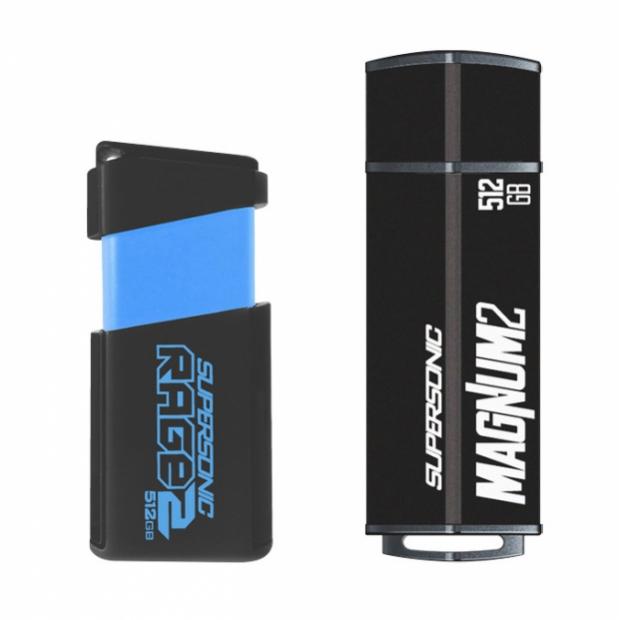 First off the rank is the Supersonic Magnum 2, 3.0 USB Flash Drive - boasting read and write speeds reaching 400MB/s and 300MB/s. As quoted in a recent press release, "it's the fastest high capacity/high performance USB flash drive on the market". They aren't joking about high capacity either, with 256GB and 512GB options to be released all wrapped up in their study matte black industrial grade metal housing.
Said to be able to withstand forces of 15Gs, this product also comes with a handy detachable cap to help keep everything clean - however you'll likely lose it as always seems to happen with these products.
The other product featured here is the Supersonic Rage 2, 3.0 USB Flash Drive - designed with withstand punishment, the press release claims that "its rugged, rubberized casing is designed to withstand the wear and tear of everyday use and the all-in-one slide to connect feature protects the port from damage it might encounter while traveling at the bottom of a pocket or bag."
Being released in the slightly smaller capacity range of 128GB and 256GB, the Rage 2 also features read and write speeds of up to 400MB/s and 300MB/s.
Meng Jay Choo is Patriot's Product manager, he's backed up his companies claims by stating "Patriot has revamped its Supersonic USB line with two great new additions, both with exceedingly fast speeds. There are no comparable USB drives on the market, at the moment, and we hope to continue to deliver impressive performance speeds to our customers as technology advances."
Both of these devices will be made available in February 2015 in online and brick-and-mortar retailers like Amazon, Newegg and Fry's Electronics - no product pricing has been currently mentioned.
Related Tags