AnandTech has been purchased by the same firm who owns Tom's Hardware
Purch announces it has purchased AnandTech, with the company now owning both AnandTech and Tom's Hardware.

Published Wed, Dec 17 2014 8:34 PM CST
|
Updated Tue, Nov 3 2020 12:11 PM CST
Purch, a "leading content and commerce company" has announced it has acquired AnandTech for an undisclosed sum of money. Purch is the company that acquired Tom's Hardware all those years ago. AnandTech will reportedly remain "editorially independent" from the deal.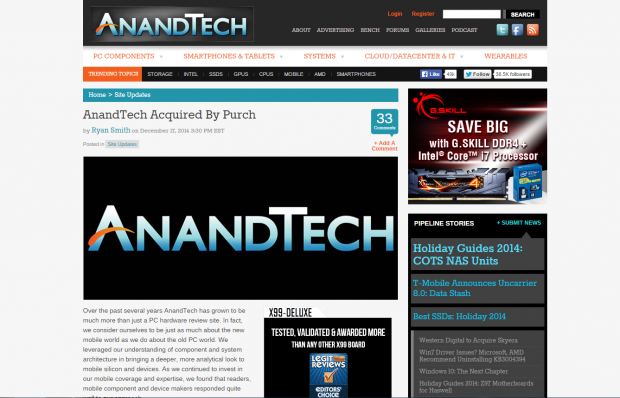 AnandTech's current editor-in-chief, Ryan Smith, said "AnandTech has grown by leaps and bounds over the past several years, but we were nearing what's possible as an independent company. The challenge has always been that there are very few players in the publishing space these days who value deep, high-quality content. We wanted a partner that understood our values, had a sound business model to ensure AnandTech's legacy would continue for years to come, and would allow us to grow and expand our readership without compromising the quality that made us who were are today. Purch provides all of these things. I am beyond excited about what we'll be able to do with their support."
Anand Shimpi, who now works for Apple and was the founder of AnandTech in 1997 when he was just 14 years old, said "AnandTech represents much of my life's work over the past 18 years. I am happy to see it end up with a partner committed to taking good care of the brand and its readers. I wouldn't have had it any other way."
Related Tags