Toshiba launches HK3E2 and HK3R2 enterprise SSDs
Toshiba addresses the exploding enterprise SATA SSD market with two new offerings.
Published Wed, Dec 3 2014 10:36 AM CST
|
Updated Tue, Nov 3 2020 12:12 PM CST
Toshiba has been aggressively pushing further in to the datacenter SSD market. Toshiba is surfing the wave of flash pouring into the datacenter, and they recently posted a 70.5% quarter over quarter jump in Q2 2014. There are other sharks swimming in the same pool, and competition for slots has been tough as Intel, Micron, and Samsung also have very competitive products. Toshiba has a long history with flash, they actually invented it, but they also have an often-overlooked advantage of being the only fab-enabled SSD manufacturer with HDD manufacturing as well. This provides them a complete portfolio in the two backbones of enterprise storage.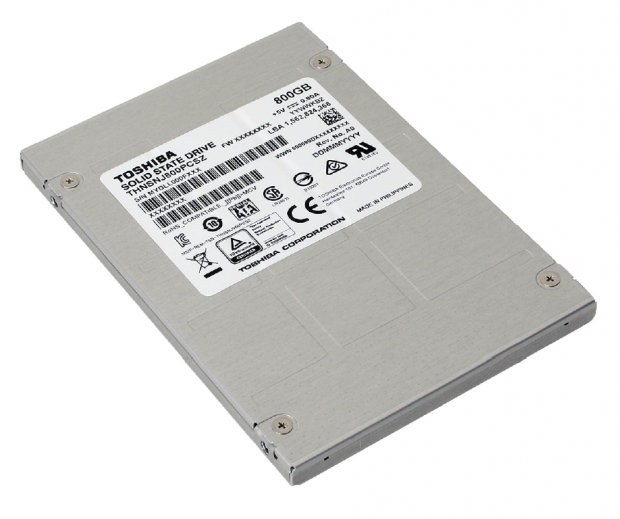 NVMe and PCIe are hot topics as of late, but SATA SSDs are also one of the fastest growing segments in the datacenter. Toshiba has announced two new SSDs to address this market. The HK3E2 is a value-endurance 6Gb/s SATA SSD that offers 3 DWPD (Drive Writes Per Day) of endurance, tailoring it well for mainstream enterprise applications such as exchange mail servers, web servers, database servers, indexing servers and data center storage workloads. Power loss protection is included and the HK3E2 sports speeds of 75,000/30,000 random read/write IOPS. The HK3E2 also features sequential read/write speeds of 500/400 MiB/s.
Toshiba is also providing the HK3R2 series to address read-centric workloads. The HK3R2 features 1 DWPD of endurance and speeds up to 75,000/12,000 random read/write IOPS. It also offers a beefy 500/400 MiB/s sequential write speed, and is designed for read intensive applications and workloads such as read caching, video streaming and data center storage. Both SSDs feature power loss protection and Toshiba's proprietary QSBC (Quadruple Swing-By Code) error control algorithms, which provide enhanced resilience to data failures.
We already have samples in the TweakTown Enterprise Storage Lab, and we will be posting a full product evaluation in the coming days. In the meantime, head over to our IT/Datacenter section for a look at our library of competitive performance analysis of the latest and greatest enterprise storage products.
Related Tags