Intel to hit 10nm in 2016, with 7nm CPUs arriving in 2018
Intel continues its Tick-Tock domination, with 10nm CPUs arriving in 2016, and 7nm CPUs in 2018.

Published Mon, Dec 1 2014 2:37 AM CST
|
Updated Tue, Nov 3 2020 12:12 PM CST
Just nine years ago Intel was sitting at 65nm CPUs, reaching 22nm just three years ago now. We've been enjoying 14nm CPUs since last year, but now it's time to move onto 10nm, 7nm and beyond.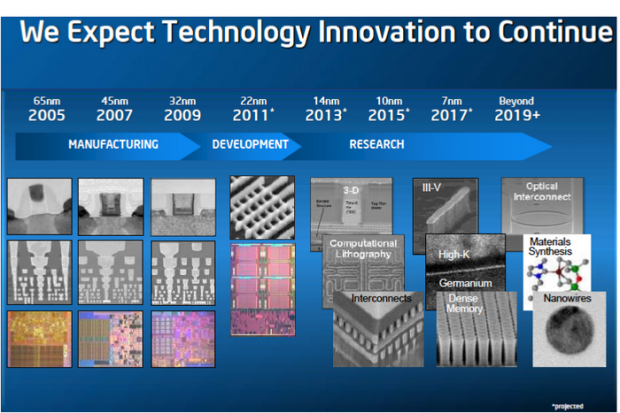 Broadwell arrived as the Core M processor, but for the 14nm desktop CPUs, we will be waiting until sometime in 2015. After the 14nm-based desktop Broadwell processors arrive, we have to look forward to 10nm sometime late next year or possibly 2016, while 7nm is planned for 2017 or so. The 10nm node is going to be an interesting transition, as the semiconductor industry will have to upgrade to EUVL technology.
While Intel edges closer to 14nm on the desktop, with 10nm now in its sights, what about AMD? AMD are currently using the 28nm process, which will be used throughout most of 2015, as they rely on fabrication plants like GlobalFoundries and TSMC do to their bidding. Intel could Tick-Tock ahead a few notches in that time, that's for sure.
Related Tags