Li-Fi uses light-based communication, capable of 15Gbps
Li-Fi will compete with Wi-Fi, using light to transfer data, at some insane speeds - beyond 15Gbps, or 1.8GB/sec.

Published Sun, Nov 23 2014 6:33 PM CST
|
Updated Tue, Nov 3 2020 12:13 PM CST
Just when you thought your GbE, or Gigabit Ethernet connection was fast with 1Gbps, and its lame, old wires - light-based communications are now coming into play and could blow away current physical line speeds.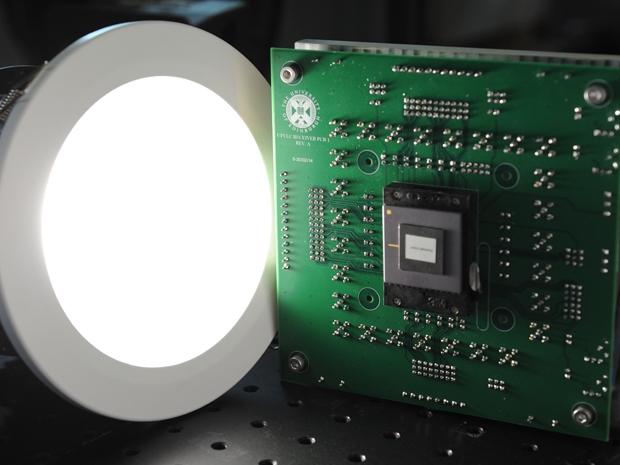 Harald Haas, Chair of Mobile Communications at the University of Edinburgh said that the potential for wider bandwidth and quicker response time than Wi-Fi, is with light-based communications. He said: "All the components, all the mechanisms exist already. You just have to put them together and make them work". Haas is working with researchers from many different universities, which are currently half way through an expensive $9 million project funded by the Engineering and Physical Sciences Research Council, in the United Kingdom.
The researchers are looking into ultraparallel visible light communication, which uses "multiple colors of light to provide high-bandwidth linkages over distances of a few meters", as the Spectrum IEEE site reports. This system has the team using commercially-made red, green and blue LEDs as both emitters, and as photodiodes to detect light. Using this simple technology has speeds of 110Mbps, and when transmitting data in one direction only, they reached 155Mb/s.
Haas teased that this version is limited by its LEDs, and by the use of LEDs as both the transmitters, and detectors, simultaneously. A better LED has been created, which pushes the transfer rate closer to 4 gigabits per second, operating on just 5 milliwatts of optical output power, using high-bandwidth photodiodes at the receiver. The team used a "simple lens to enhance the distance, they can send data 10 meters at up to 1.1 Gb/s, and soon they will increase that to 15 Gb/s, Haas says. The 802.11ad Wi-Fi standard for the 60-gigahertz radio band reaches just under 7 Gb/s, so Li-Fi would more than double that rate".
The entire speel is available at the source, if you want a technical deep-dive into light-based communications.
Related Tags