Blizzard unveils Overwatch, its team-based first-person shooter
Blizzard announces its new title at BlizzCon, a team-based first-person shooter known as Overwatch.

Published Sat, Nov 8 2014 6:42 PM CST
|
Updated Tue, Nov 3 2020 12:13 PM CST
Blizzard may have cancelled Titan, but it has just announced Overwatch, a team-based, first-person shooter that is the company's first new IP in quite a few years. Blizzard unveiled the game during BlizzCon 2014, with a pre-rendered video showing off Pixar-like animation, teasing its upcoming shooter.
If you thought Overwatch would be years away, think again, as Blizzard's Chris Metzen has said that Overwatch is coming "sooner than you think". CEO and co-founder of Blizzard Entertainment, Mike Morhaime said: "Our goal with Overwatch is to create an awesome FPS experience that's more accessible to a much wider audience while delivering the action and depth that shooter fans love". The game world itself is set many years in the future where an "international task force" known as the Overwatch, has brought peace to the world, but this has since finished, with new heroes needing to rise up to the job.
Overwatch is a team-based multiplayer shooter, which is "a game and genre" that Blizzard has wanted to play with for a while. It features cartoon style visuals, similar to other team-based shooters like Team Fortress 2, and RPG-like FPS games like Borderlands. We have some weird and wonderful characters to play with, including Hanzo, a bow-wielding ranger; Winston, the gorilla; Torbjorn, a dwarf engineer; Widowmaker, the sniper; and Bastion, the robot/turret.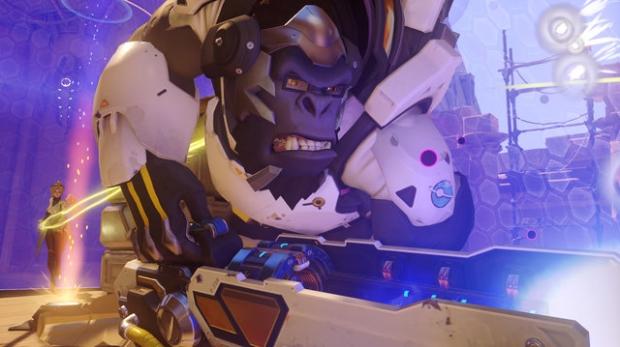 When it comes to gameplay, it looks like we can expect fast movement with quick grappling mechanics, teleporting and flying, as well as the usual ground-based movement. We can see a nice mix of magic and technology featured in the game, with transforming robots that mould into turrets, that fight alongside spell-casting supporting heroes. Overwatch will offer six-on-six play on maps, which are inspired by real-world locations like London and Egypt.
Blizzard will be offering a beta of Overwatch sometime next year.
Related Tags