NVIDIA and AMD are both working toward 8K resolution, or 7680x4320
8K is the future, according to AMD and NVIDIA.

Published Wed, Oct 15 2014 6:23 AM CDT
|
Updated Tue, Nov 3 2020 12:14 PM CST
4K is barely here and getting into the market, but we already have some great monitors in the Acer XB280HK, which is powered by NVIDIA's G-SYNC technology. Forget all that, though, as news is coming out about 8K, and that both NVIDIA and AMD are looking at ways to make this insanely high-res technology happen.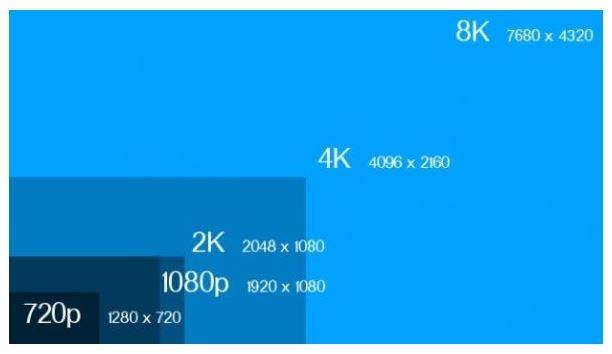 PCGamesn.com talked with AMD's Chief Gaming Scientist, Richard Huddy, who said: "If we get to a display resolution of about 8k horizontally and about 6k vertically then, for a player with 20/20 vision, they will have something that is close to perfect for their visual system". After that, the human eye finds it hard to see any more detail on screen, which means we probably won't see a huge rush for 16K or 32K (can you even believe we're talking about resolutions this high?). Huddy continued: "That's about 48 million pixels to fill the field of view".
NVIDIA also had something to say about 8K, with the Head of GeForce GTX, Scott Herkelman saying: "8K, or anything above 4K is going to require multiple GPUs. 4K for most GPUs is pretty tough, the 980 handles it well but it's still one of those things that the more GPUs you have the better it looks". GPU horsepower isn't the only thing that needs to power the resolution, but imagine what kind of refresh rate is going to be there, and how much bandwidth DisplayPort, or whatever display connectivity is being used, is going to require.
Huddy thinks that 8K might be born from multi-screen setups, with between three and five monitors being used in conjunction with Radeon GPUs in Crossfire. Considering there's not much hardware available that can run most games at 4K at 120Hz (not that there's even any monitors that can do this yet) it will be a big feat. Huddy added: "A lot of what we put up with in graphics we put up with because we're used to it. We used to have low shadows and then people found they had enough graphics horsepower to put shadows on; we used to say 'Work with one or two closest light sources, it's a close approximation' and we'd put up with it. As video cards got more potent they're able to fill in more of those blanks and you don't really want to ever go back".
I think we should be locking down 4K at 120Hz first, getting that nailed down nice and tight. But with the kerfuffle of Ubisoft's crap and 30FPS, the industry is stuck in frame rate quick sand, so I don't see the point of talking about 8K when 90% or more of the games being made and released right now are being targeted for Xbox One and PS4, which are only doing 1280x720 and 1600x900, or 720p and 900p, respectively.
Related Tags