Sniper Elite 3 updated, now includes support for AMD's Mantle API
Rebellion updates Sniper Elite 3, now supports AMD's Mantle API.

Published Sun, Oct 5 2014 2:41 AM CDT
|
Updated Tue, Nov 3 2020 12:14 PM CST
Rebellion has just updated Sniper Elite 3, with the game now joining the ranks of AMD's Mantle compatible games. The Head of Programming at Rebellion, Kevin Floyer-Lea explained that switching to a different API, is important not only for the gaming industry, but gamers, too.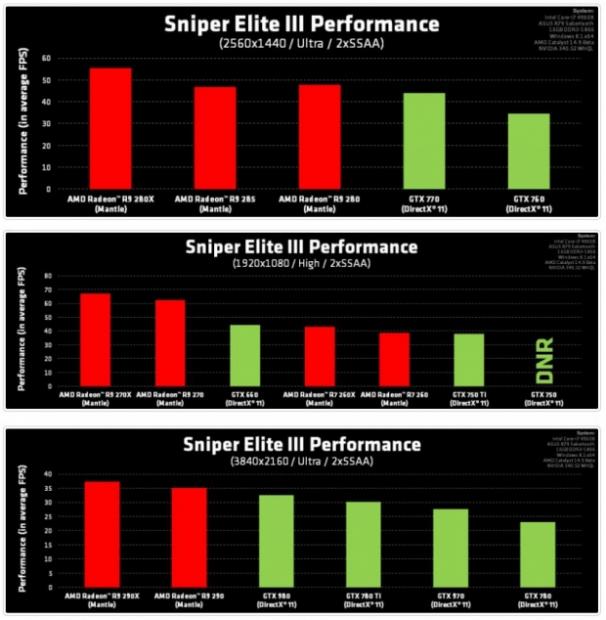 Sniper Elite 3 runs on the Asura engine, with Rebellion having to find a way to bake Mantle support in with the assets the developer had made for the DirectX version of the game. With Asura being a cross-platform title, it was easier than some engines, but a big task nonetheless. The Mantle-powered version of Sniper Elite 3 lowers the CPU overhead, thanks to more efficient calls within the Mantle API. You can see in the image below, that the Mantle version of the game uses less CPU power, but also provides increased FPS.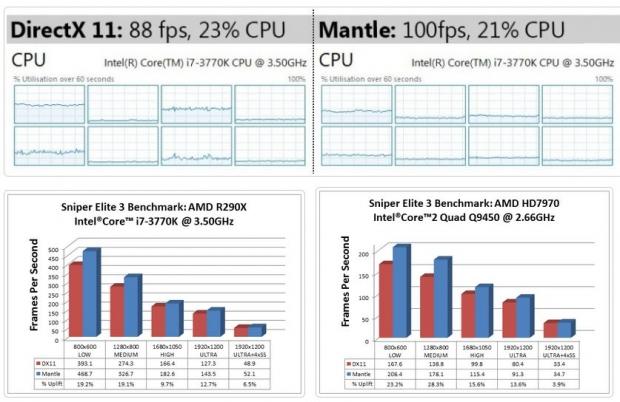 We can see that using the Intel Core i7 3770K processor at stock speeds (3.5GHz), the DirectX 11 version of the game uses 23% of the 8 available threads, and provides 88FPS. The Mantle version of the game on the other hand, uses 21% CPU - 2% less than DX11 - and provides 100FPS, just over 10% added performance. Not bad, considering its free performance for Radeon users.
Related Tags