Microsoft officially unveils Windows 10, pushing into the future
Microsoft today unveiled its Windows 10 operating system, hoping to entice both Windows 7 and Windows 8/8.1 users to the newer OS.
Published Tue, Sep 30 2014 1:34 PM CDT
|
Updated Tue, Nov 3 2020 12:14 PM CST
Microsoft today unveiled its Windows 10 operating system, a push into the future to try and help desktop and PC users forget about the Windows 8/8.1 debacle. During an invite-only event in San Francisco, the company showed off Windows 10, which mixes live tiles with the familiar UI of Windows 7, including a Start menu and taskbar. The "Metro" start screen and the regular Start Menu of older versions of Windows have been blended together, to provide a more cohesive user experience.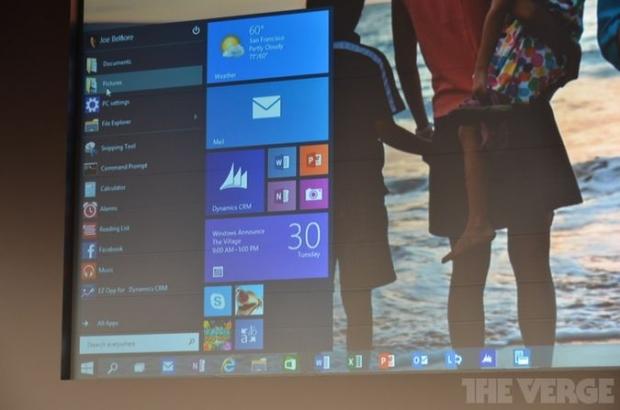 Starting tomorrow, Microsoft will open up a Windows 10 technical preview for PCs and laptops, with additional device support expected in the near future. The company hopes to make a transition from Windows 7 to Windows 10 much more comfortable than the headaches that followed many users as they tried to embrace the touch-centric Windows 8/8.1. Additional details about the OS will be unveiled in early 2015.
Microsoft chose to skip the Windows 9 name and help usher in the idea that its OS needs to be robust and compatible with a wider variety of different products:
"Windows 10 will run across an incredibly broad set of devices - from the Internet of Things, to servers in enterprise datacenters worldwide," the company boasted. "Some of these devices have 4 inch screens - some have 80 inch screens - and some don't have screens at all. Some of these devices you hold in your hand, others are ten feet away. Some of these devices you primarily use touch/pen, others mouse/keyboard, others controller/gesture - and some devices can switch input types."
Microsoft Windows 10 should be available by late 2015.
Related Tags