FMS 2014 - Contour Semiconductor displays $10 million DTM wafer
Contour Semiconductor displays a wafer of DTM memory valued over $10 million.
Published Tue, Aug 12 2014 9:29 AM CDT
|
Updated Tue, Nov 3 2020 12:15 PM CST
Flash Memory Summit 2014 - As we reach the end of planar (2D) NAND scaling we will begin to see more disruptive products emerge with futuristic technology such as PCM and magnetic and carbon nanotubes, the only question is which will rise to the top as the premier after-NAND technology. These new technologies will initially emerge as complimentary technologies to the existing NAND used in SSDs. Saul Zales, the Chief Executive Officer of Contour Semiconductor, brought along a wafer of their DTM (Diode Transistor Memory)that is valued at nearly $10 million, due to its early design and rarity. DTM is a phase-change based memory (PCM)that reduces the mask and process costs by up to 65% compared to NAND.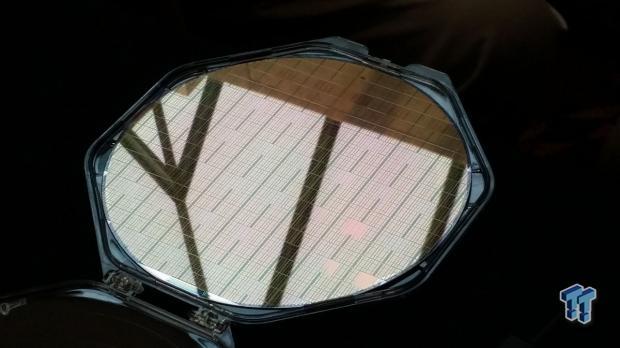 The 4F2 self-aligned structure uses a vertical epitaxial diode as the select device. In the future, Contour Semiconductor could include magnetic or carbon nanotube storage elements. The wafer is built on the CMOS process with a cross-point array architecture that supports word, sector, and page-level erase commands, which are very similar to NAND's design and fucntion. This will allow the use of the DTM packages with NAND controllers. We were lucky enough to see one of the only DTM wafers in existence, and had a quick chat with Saul Zales in the booth.
What does all this mean? Up to a billion P/E Cycles, which would be nearly immeasurable endurance compared to current SSDs. Using this type of memory as a cache for less-durable NAND could boost performance and endurance exponentially, and eventually new storage devices could use this type of memory.
Stay tuned to TweakTown for more details as this new technology emerges!
Related Tags