Google owns the mobile OS market with 84.6%, Apple has just 11.9%
Android dominates the mobile OS market, with 84.6% in Q2 2014, leaving Apple with just 11.9%

Published Fri, Aug 1 2014 2:38 AM CDT
|
Updated Tue, Nov 3 2020 12:15 PM CST
The latest numbers from market research firm Strategy Analytics for Q2 2014 see that Google is completely dominating the mobile OS market, with Android hitting a global market share of 84.6%, up from 80.2% in the same quarter of last year.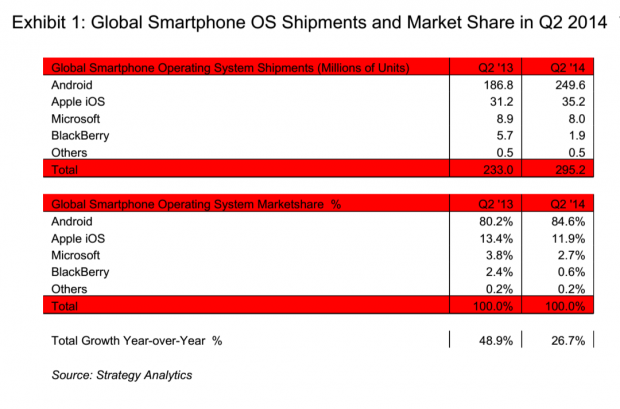 Google's biggest competitor, Apple, has just 11.9% market share, which is down 13.4% from the same period of 2013. Microsoft has also lost market share to Google, dropping from 3.8% in Q2 2013 to 2.7% in Q2 2014. BlackBerry is barely hanging on, dropping from an already low point of 2.4%, to just 0.6% this year.
When it comes to smartphone manufacturers, Xiaomi has become the world's fifth-largest brand, which has Strategy Analytics calling the company a "star performer" for taking control of 5% of the global smartphone market by shipping 15.1 million units. Samsung is still number one, with 74.5 million smartphones shipped in Q2 2014, down from 76 million units in the same quarter of 2013. Apple shipped more units this year, hitting 35.2 million shipments, up from 31.2 million in Q2 2013.
Huawei is in at number three with 20.1 million smartphones shipped, up considerably from Q2 2013's shipment numbers of 11.3 million. Xiaomi is in fifth place, increasing its smartphone shipments from 4.1 million units in Q2 2013 to 15.1 million in Q2 2014. LG falls into sixth place, shipping 15.6 million units, up from 12.1 million units in the same quarter of last year.
Related Tags