Elon Musk to help fund Nikola Tesla Museum thanks to The Oatmeal
After checking out well-detailed Part 1 and Part 2 about the 'magical space car' and Nikola Tesla, Elon Musk would help fund the museum.
Published May 14, 2014 10:46 PM CDT
|
Updated Tue, Nov 3 2020 12:16 PM CST
1 minute & 24 seconds read time
According to reports, the CEO of Tesla Motors and SpaceX Elon Musk agreed to help fund the Nikola Tesla Museum, thanks to Matthew Inman's illustration in The Oatmeal.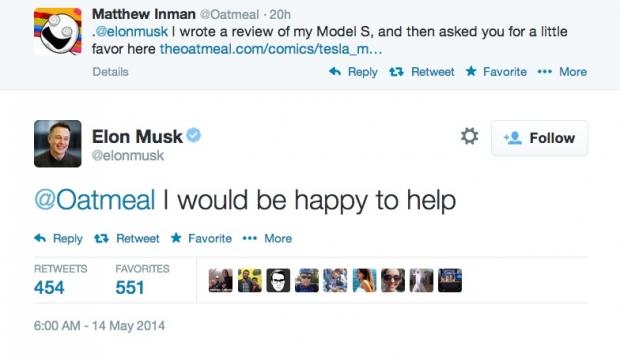 Inman led the fundraising via Indiegogo to bring up a museum based on Nikola Tesla's invention by using one of his facilities which was going to be torn down. Inman was able to successfully raise $1.5 million to buy the property in time. He needed to raise $8 million more so that the facility can be converted into a museum.
Recently he posted a two-part comic about owning a Tesla Model S. In part One he called it as a 'magical space car' and in Part 2, it was about asking Tesla Motor's Elon Musk to help him fund for the museum via twitter. Inman explained why it would be a good gesture for the electric car company to help fund this project.
Nikola Tesla is one of the most iconic inventors but was also known not to be good with business. He did patent the AC induction motor 126 years ago. When the patent expired, anyone was free to use the technology. Tesla Motors was founded in 2003 and made cars based on the AC induction motors. While Tesla Motors was free to use his surname and his invention without giving any royalties to the Tesla family, they would appreciate a little bit of help.
As a response, Inman said in the part 2 of the comic,"You owe us nothing, and you've done nothing but good things in the name of Nikola Tesla. But the fact remains: Tesla Motors, a company now worth billion, is using Nikola Tesla's name and they're using his technology, and all we want in return is a little bit of help".
Inman also said that this is not a demand or an acquisition, let alone a plea. Rather its a polite request from a humongous fan. As a response, Elon Musk said that he would be happy to help. Though its not yet reported in what capacity he'll help, in any case it should significantly help to forward the project.
Related Tags