For countless decades, scientists have been gagged and bought when it comes to "global warming" or "climate change". You might not want to hear it, but if you dig deep enough, the rabbit hole begins to make sense. For those who have never heard of "Suspicious0bservers" on YouTube, you might want to check out his videos - he's quite the expert and spokesperson to the masses.
Suspicious0bservers, or Ben Davidson, has over 180,000 subscribers on YouTube, but his latest video "Why Global Warming Failed" should be an eye-opener for you. The video above has plenty of data and links to papers he cites from, with some very large points to be made. It's not just the Earth that is experiencing changes, but virtually every single planet in our solar system is going through some form of change. Those planets aren't having changes due to man now, are they?
We, mankind, are causing some form of pollution and "climate change" but it is in no way near the numbers scientists, governments and corporations are reporting. During the video (at around the 8:30 mark), you can see the CO2 levels on Earth are skyrocketing - something that man is surely doing. But, the temperature - "global warming" - is right on the models that have been tracked over the last 300,000 years. We're actually seeing the temperature in Antarctica dropping a few degrees in the last 300,000 years - where every 100,000 years we're seeing a drop of a couple of degrees.
Then we come to the more complicated subject: our star. What comes up every day, and goes down everyday, our Sun. Most people don't know what a sunspot is, so here's your chance, a number that has been steady during the Sun's cycle over the last 160+ years. We see a Solar maximum every 11 years, which is followed by a Solar minimum.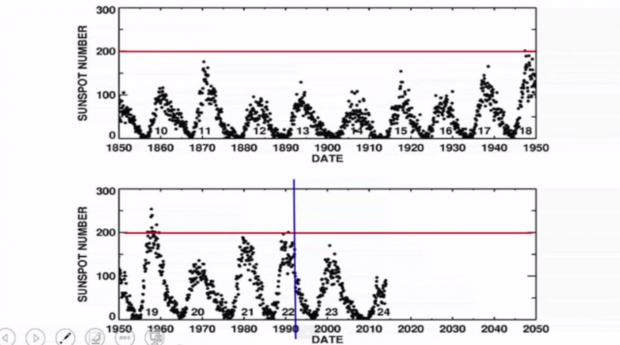 Sunspot numbers are what determine the maximum and minimum Solar activity, but since "climate change" began getting pushed in the mainstream media and by governments (in the mid 90s), these numbers have dropped. Over the last 15-20 years, we've seen a drop in the amount of sunspots during the Solar maximum, with a massive drop in the last 5 years for Solar cycle 24.
Where during the Solar cycle 21 and 22, we saw an average of 200 sunspots - but in solar cycle 23, we saw that number drop to around 160 or so. We're half way through Solar cycle 24, but we're not seeing that number climb - where this should be something scientists and governments begin to get worried.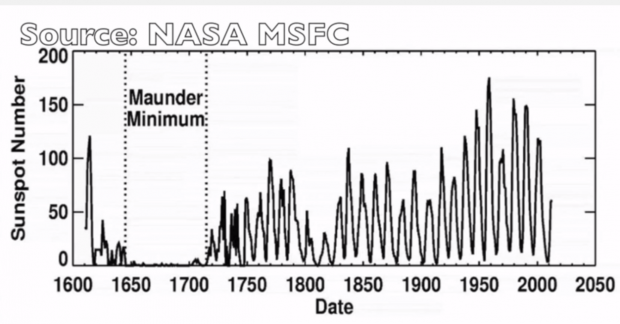 Looking at a longer timescale for sunspots, during the Maunder Minimum, which was a "prolonged sunspot minimum" between 1650-1700, we can see that since then, we've seen an uptick in sunspots. Between 1700-1820 or so, the sunspots begin to grow, then died off in the 1800-1850s. It ramped back up in the 1950s, slowing right down at the turn of the century. Looking at the numbers now, we're not seeing them grow.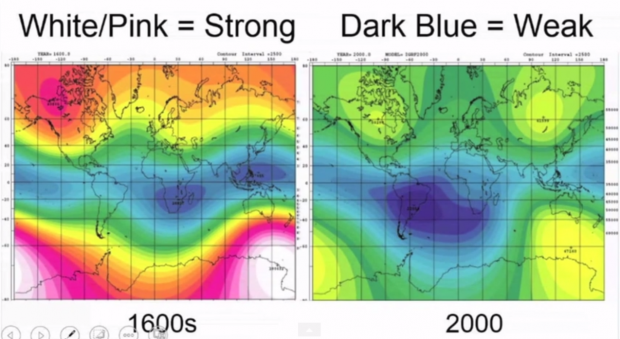 Another big problem for the Earth, and us humans, is that our magnetosphere has degraded, significantly. This is the Earth's shield from the Sun, with the white/pink areas being the strong parts of the shield, but we've seen a drop of our shield of a huge 15% since the 1800s. This could explain the increased cancer rates in Australia, as there is next to no protection, mixed with increased heat and exposure to the Sun.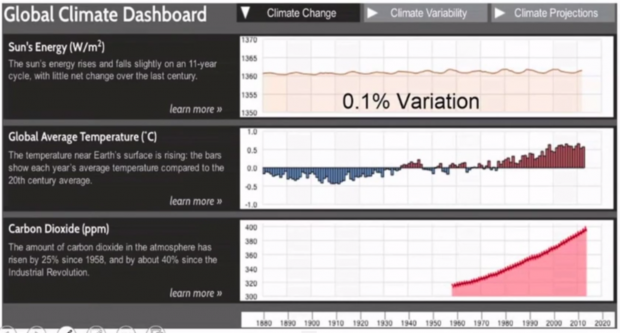 In the above charts, we can see that the global average temperature (in Celcius) has risen just over 0.5C in the last 130 years. Most of that from the 1980s, but the Sun's energy has been rising and falling, as it should, with its 11-year cycle. The bigger problem here is the amount of carbon dioxide in the atmosphere - a number that has risen some 25% since 1958, and by a huge 40% since the Industrial Revolution.
What is happening here is a massive solar system shift, it's not just the Earth - but this is what the mainstream media and governments want you to believe. This is why so much money is pumped into "climate change" and "global warming" - you're being blamed, so that they can tax you, corporations, and everything you buy - making trillions of dollars in the process.
For those who want to tumble down the rabbit hole a little further, spare up a few hours and watch some of Suspicious0bservers videos on YouTube.