VESA announces new display stream compression standard
VESA has teamed up with the MIPI Alliance to finalize and make available the Display Stream Compression Standard Version 1.0.
Published Tue, Apr 22 2014 1:22 PM CDT
|
Updated Tue, Nov 3 2020 12:17 PM CST
Today the Video Electronics Standards Association (VESA) and the MIPI Alliance announced the finalization and release of the new Display Stream Compression (DSC) Standard version 1.0. DSC is designed to be a low latency, and lossless performance compression standard for today's high-bandwidth video content. DEC has been adopted into VESA's embedded DisplayPort v1.4 and into MIPI Display Serial Interface (DSI) Specification v1.2 technologies.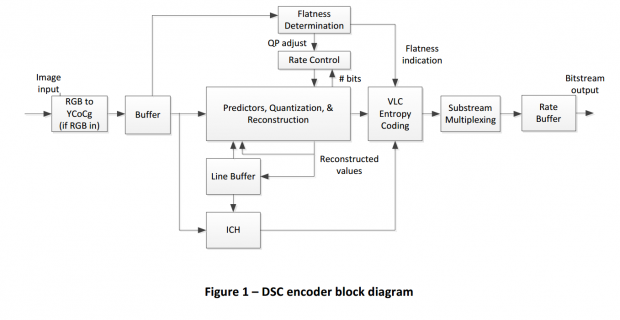 "VESA recognized the need for display interface compression in mobile devices to extend battery life without compromising visual quality," said Dale Stolitzka, VESA Display Stream Compression Task Group Chairman and member of Samsung Display America Laboratory. "In addition, on-going development of DisplayPort standards, which includes 8K resolution support, foresaw the need for compression because of inherent limits in the existing display interface cables. VESA realized that compression was becoming a common need in the industry, and that a standard compression coding system could meet these common display interface needs."
Increasing display resolution and higher refresh rates present challenges for small-display mobile devices and laptops, as well as large external displays. As display resolutions increase, the interface payload capacity must increase either with more power-consuming bandwidth, video data compression, or both. Displays going beyond 4K resolutions will push the video data rate beyond the current limits of the interface standards. For example, standard 1080p displays require a video data rate of 3.5 gigabits/sec; 4K displays at 60Hz require 14 gigabits/sec; and future 8K displays will require over 50 gigabits/sec. VESA's DSC standard version 1.0 enables up to 66 percent data rate reduction, extending battery life in mobile systems and laptops, while simplifying the electrical interface requirements for future 4K and 8K displays, VESA said in a release.
"We are pleased to have contributed to the development of the DSC standard through our liaison agreement with VESA," said Joel Huloux, Chairman of the Board, MIPI Alliance. "We came to the same conclusion, regarding the need for a video interface compression standard, and realized that both organizations and the industry would benefit through this collaborative effort. DSC enables a single codec for system chips that have multiple interfaces."
Related Tags