SanDisk announces the launch of four new Enterprise SATA SSDs
SanDisk unveils four new SSD additions to its CloudSpeed line of enterprise-grade SATA solid state drives and boast 10 whole write per day capabilities.
Published Mon, Mar 31 2014 1:33 PM CDT
|
Updated Tue, Nov 3 2020 12:17 PM CST
Today SanDisk announced the addition of four new Enterprise-grade SATA SSDs to its CloudSpeed Serial ATA line of solid state drives. The CloudSpeed Extreme, CloudSpeed Ultra, CloudSpeed Ascend and CloudSpeed Eco Solid State Drives have been designed to deliver the best business-critical performance possible in mixed-use enterprise applications often found in today's business world.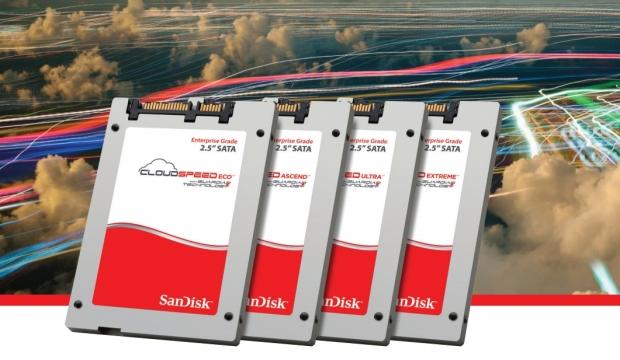 "Organizations in every industry are turning to SSDs to meet the challenges faced by growing volumes of data," said John Scaramuzzo, Senior Vice President and General Manager, Enterprise Storage Solutions at SanDisk. "However, finding a solution that meets the performance and cost needs of your individual environment can be difficult. The CloudSpeed SATA SSD product family was designed to meet the needs of applications across the read-write spectrum, meaning organizations and server designers no longer need to make tradeoffs between system performance and cost."
The new CloudSpeed drives utilize SanDisk's flash management Guardian Technology Platform to become the first SSD vendor to ship a drive capable of ten full writes per day that has been built on a 19nm scale. This technology also helps the drives to offer the best value in long-term operation. SanDisk says that 90-percent of the world's data has been generated in the last two years, and that this rapid growth has "catapulted" the industry into the so-called "big-data era," and it will take new technologies like CloudSpeed to keep up with the demand of this boom.
"We are only at the early stages of becoming a data-driven society that wants instantaneous access to our information," said Jeff Janukowicz, Research Director, at IDC. "To deliver real-time or near real-time insight to drive business decisions, organizations worldwide will need to consider high performance storage solutions, such as SSDs, thereby driving demand for these solutions in the coming years."
The SanDisk CloudSpeed Serial ATA (SATA) product family offers the following range of endurance and performance capabilities:
CloudSpeed Extreme - This high-endurance SSD achieves up to 10 full capacity DWPD with a 5 year warranty1 and delivers up to 75K/25K IOPS of random read/write performance for write-intensive application workloads such as Database Logging and High Performance Computing (HPC). It comes in capacities ranging from 100GB to 800GB and supports up to 14.6 Petabytes Written (PBW) to the drive over its life.
CloudSpeed Ultra - This high-performance drive achieves up to 3 full DWPD with a 5 year warranty1 and is optimized for mixed-use application workloads such as Online Transaction Processing (OLTP), Financial Transactions, Email/Messaging, E-Commerce, Virtual Desktop Infrastructure (VDI) and Collaboration. The CloudSpeed Ultra is offered in capacities ranging from 200GB to 800GB, and delivers up to 80K/25K random read/write IOPS and supports up to 4.4 PBW.
CloudSpeed Ascend - This high-end drive is designed for read-intensive application workloads such as File Servers, Web-based Applications and Virtual Tape Libraries (VTL). The CloudSpeed Ascend comes in capacities ranging from 240GB to 960GB, achieves up to 1 full DWPD with a 5 year warranty, delivers up to 80K/15K IOPS and supports up to 1.8 PBW.
CloudSpeed Eco - This entry-level SSD is designed for read-intensive application workloads such as Web Servers, Web 2.0 Content Repositories, Photo Sharing, Media Streaming, Video on Demand (VOD) and Cloud Computing. The CloudSpeed Eco comes in capacities from 240GB to 960GB, achieves up to 1 full DWPD with a 3 year warranty3, delivers up to 450/400 MB/s** of sustained read/write performance and 80k/15k read/write IOPS and supports up to 1.0PBW.
Related Tags