Last November, Futuremark made the announcement that it would be de-listing the Samsung Galaxy S4 and Galaxy Note III from its 3DMark benchmarking results. This drastic action was taken because of some shady, behind the scenes code that was implemented on the devices that made them appear to perform better in benchmarking than they actually did. Several other phones were caught up in this scandal, but things have changed with the roll-out of Android 4.4.2 KitKat to these two devices.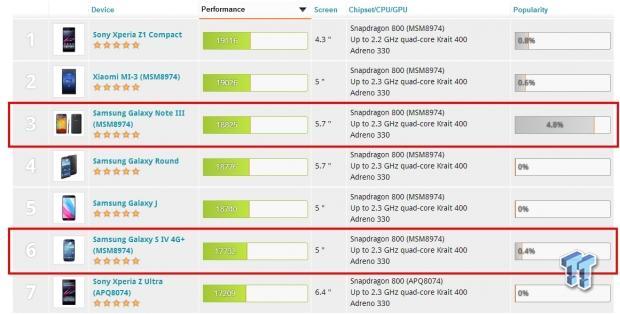 "That decision (To de-list the Samsung devices from results) won us lots of praise from 3DMark users, even from those who owned one of the delisted models. We knew that de-listing would send a message to manufacturers too. We hoped it would encourage them to be fair and honest with their customers," said Futuremark. "After conducting our own testing, I can confirm that the Galaxy Note III and Galaxy S IV now conform to our benchmark rules when running the Android 4.4 update provided by Samsung."
Samsung Galaxy S IV
3DMark scores are valid when using Android 4.2.2, 4.4.x or later*

Delisted when using Android 4.3 or 4.3.1
Samsung Galaxy Note III
3DMark scores are valid when using Android 4.4.2 or later*

Delisted when using Android 4.3
Along with this announcement, Futuremark also unveiled the launch of its newly-updated 3D Mark for Android application. Version 1.3.1349 allows the company to more easily de-list devices that attempt to scam 3D Mark results, and returns compatibility for the Galaxy S4 running Android 4.4.2, and Galaxy Note III devices running Android 4.4.2. Some bug fixes and other improvements have been applied as well. Head over to the source link below to download the latest version of the app to your Android device today.