Check out this dual Arduino Micro XPlorerBoard on Kickstarter
The Portable Dual Arduino Micro XPlorerBoard aims to make prototyping easy and convenient, check it out on Kickstarter!
Published Mar 14, 2014 12:53 PM CDT
|
Updated Wed, Jul 27 2022 3:48 AM CDT
0 minutes & 53 seconds read time
Electronic education kits were one of the highlights of my youth, and I spent many hours attaching resistors, wires and other components together via those little shiny springs. Today with microcontroller boards such as the Arduino being as cheap as they are, educational electronic kits have taken on a whole new look, and ease of use. The Portable Dual Arduino Micro XPlorerBoard is one of those new easy to use educational electronic boards.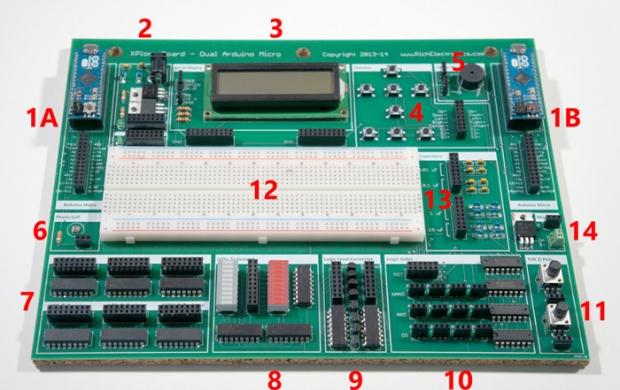 Featuring support for two Arduino Micro boards, the XPlorerBoard makes life easy by eliminating loose parts, and adding in very handy features such as a 3V and 5V logic level converter, on-board power supply, and a full compliment of analog and digital sensors. Since the XPlorerBoard was designed for education, the entire board is coated in an anti-static coating and all of the leads on the bottom are protected as well.
The entire board along with accessories fits neatly into a standard binder as well, making the board portable and easy to carry to class or your favorite MakerSpace. The XPlorerBoard is being offered through a KickStarter campaign right now and appears to be one of the best value educational development kits on the market at the moment. Best of all, the XPlorerBoard is a product of Savanna, Georgia, and not too far from my home town!
Related Tags