Make homemade wine with The Miracle Machine
The Miracle Machine uses tech to turn water into wine in your home.
Published Mon, Mar 10 2014 12:35 PM CDT
|
Updated Tue, Nov 3 2020 12:18 PM CST
There are gadgets out there for just about any need you can think of. If you are a fan of wine, a new gadget has surfaced that claims to let you make water into wine in your home. The gadget uses technology to speed the wine making process.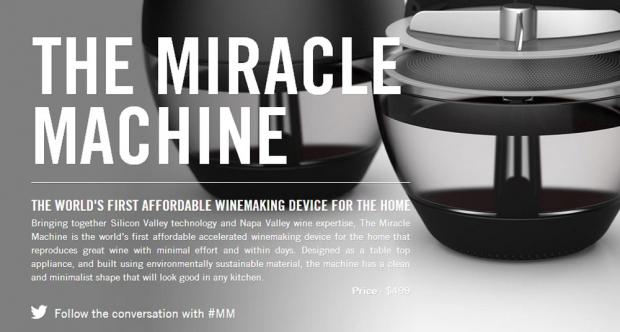 The Miracle Machine has a bunch of sensors inside a carafe along with heaters, pumps, and transducers that can make wine quickly. The gadget also promises to be economical. The people behind The Miracle Machine say that you can make a bottle of wine each week in the machine for about $10 per month.
The Miracle Machine itself isn't exactly cheap at $499, but if you want to make your own wine that might not be such a bad price. The ultrasonic sensor in the device is able to speed the flavor development of the wine according to the designers.
One of the coolest things about The Miracle Machine is that it interfaces with an app on your smartphone to let you know where you are in the wine making process and give you an idea of how much alcohol is in the wine you are making. The app even counts down so you know exactly when your wine will be ready.
Related Tags