AMD's new AM1 chipset is an SoC for the desktop
AMD unveils its new AM1 chipset, which is a new SoC destined for desktops in the developing markets.

Published Tue, Mar 4 2014 11:29 PM CST
|
Updated Tue, Nov 3 2020 12:18 PM CST
It looks like AMD is forging through with plans to dominate the desktop in emerging markets, where the chipmaker has just announced its new AM1 chipset. The AM1 chipset is a system-on-chip (SoC) for the developing market.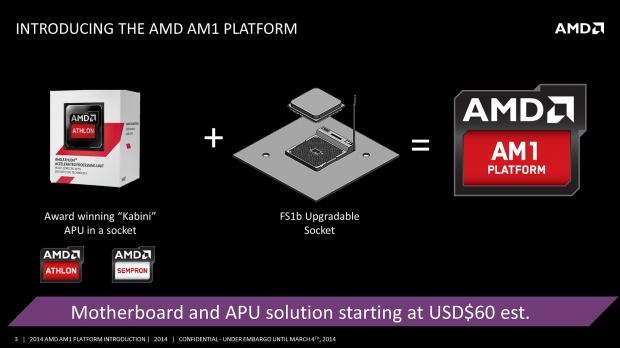 The AM1 part is a sibling of the Kabini family of chips, something that AMD launched last year with both dual- and quad-core CPUs and GPUs on the same chipset. This is similar to what was baked into Sony's PlayStation 4, and Microsoft's Xbox One. Kabini was developed mostly for portables, but AMD wants to see the new AM1 take on the low-cost, expandable desktop market.
Where AMD has it in the bag is the price, which starts at just $60 for the chipset and motherboard combined. We should see AM1 limited to just 25W maximum power draw from the chipset, but a restriction of PCIe 2.0. AMD has taken some swings at Intel, comparing it to Intel's Bay Trail platform, which AMD says AM1 beats with higher memory speeds, 16GB memory support, an upgradeable socket, and Windows XP support. AMD declares: "Avoid a dead-end platform and choose AMD".
Related Tags