Chroma Musical FPS game coming from Rock Band creator Harmonix
Rock Band Creator Harmonix has announced a new musical FPS game called Chroma that gives bonuses for moving in rhythm with the music.
Published Tue, Feb 18 2014 12:13 PM CST
|
Updated Tue, Nov 3 2020 12:18 PM CST
If you are a fan of music games, you probably played Rock Band at one time or another. This game was a competitor to Guitar Hero and added in drums and vocals on top of the guitar rhythm play. Rock Band isn't particularly popular any more.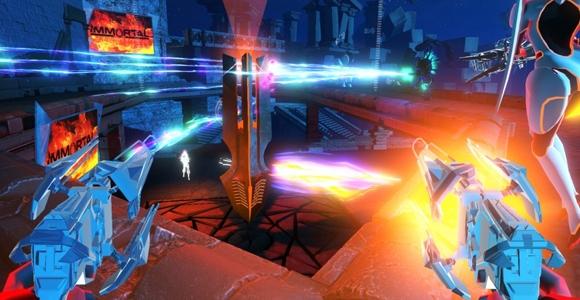 Way back in 2010 Viacom sold off Harmonix and we haven't heard much form them in a while. Harmonix has now announced that it is working on a new video game. Like the other games that the company is known for, it will be music based.
The new game won't have instruments that let you play as Rock Band did. Oddly, the new game is described as a musical FPS title. The game is called Chroma and it is being produced in cooperation with Hidden Path. If you are familiar with Counter-Strike: Global Offensive, you are familiar with Hidden Path's work.
Chroma will be a free to play game and is being built with the Unreal Engine. That should mean decent graphics. The idea behind the game is very strange, the players will be able to run faster and jump higher when they move in rhythm to the music being played. The game is also said to change the landscape based on music being played. The game is in alpha stage now and no ETA on launch is offered.
Related Tags