Google acquired SlickLogin to replace passwords with inaudible sounds
A brilliant solution from a Startup is just what Google had in mind to replace with password and maybe even the two-factor authentication system.
Published Mon, Feb 17 2014 7:03 AM CST
|
Updated Tue, Nov 3 2020 12:18 PM CST
Google recently acquired an Israel based startup called 'SlickLogin', which indicates that the company is making plans to replace passwords and even two-factor authentication methods with an inaudible sound unique to your phone and Google login.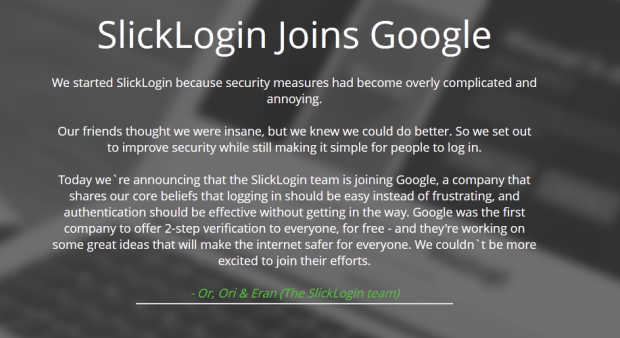 SlickLogin has a patented technology where your passwords and two-factor authentication setups can be replaced with a unique and inaudible sound. Once enabled, the website's login page would typically listen to this inaudible sound via your phone and then granting access to your account. This could solve a lot of problems and overcome the possibility of your email account being hacked by someone. All you have to do is hold your smartphone near your PC with the website's login page, and the access will be granted.
The startup's team seem to be excited to work with Google, as they said that the company has been working on some great ideas to make internet safer for everyone.
Once this is implemented properly, Google will not only gain a upper hand in probably having a much better solution than two-factor authentication method, but also would ease people's fear of their Google account being hacked. Google account gives access to a lot more than your gmail account, especially those who manage documents and files via Google drive or their Google+ profile.
Related Tags