RumorTT: Hacker says Microsoft will release Windows 9 in October 2014
Microsoft could release Windows 9 as early as October of this year if hacker, "WZor's," information is correct.
Published Jan 22, 2014 9:00 PM CST
|
Updated Wed, Jul 27 2022 3:39 AM CDT
0 minutes & 32 seconds read time
Fans of Microsoft Windows now have something to look forward to in 2014 if newly leaked information is correct. A "hacker" going by the name of, WZor, says that we can expect to see Redmond release Windows 9 in October of this year, not the following April as previously expected.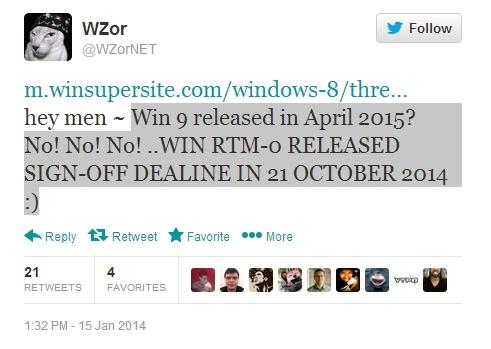 WZor has been accurate in the past, and many industry insiders believe him to have insiders deep within Microsoft, if not an actual Microsoft employee himself. The new release date rumor came in the form of a Tweet which read "Win 9 released in April 2015? No! No! No! ..WIN RTM-0 RELEASED SIGN-OFF DEADLINE IN 21 OCTOBER 2014 :)" In any event, lets just hope that Microsoft returns to their senses and brings back something more similar to Windows 7 instead of the atrocity that Windows 8 is turning out to be.
Related Tags