Back when I first reported on Comet ISON, the entire astronomical community was convinced that if given the chance, ISON would bloom into the brightest comet in recorded history. ISON was deemed something special because this visit was its first into the inner solar system, and no one knew how it might react to the suns immense heat.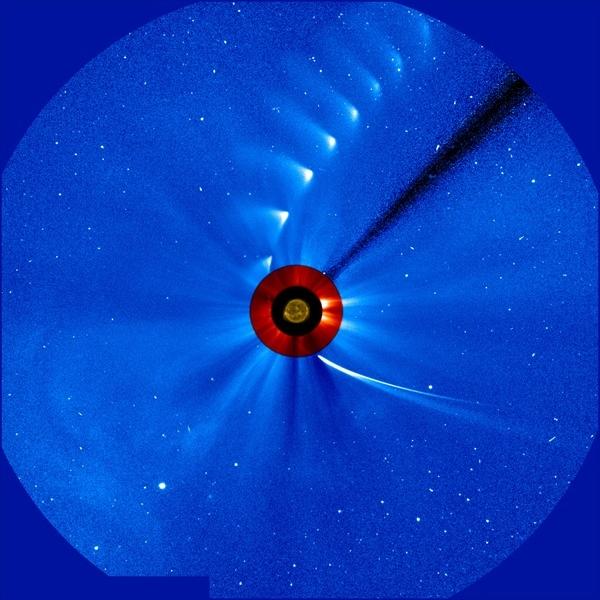 As ISON passed earth and headed towards the sun, it brightened a great bit and it looked as though we might get the spectacular once in a lifetime show that had been promised, but on Thanksgiving day that all changed. As the comet approached perihelion it seemed to take a quite sharp turn into the sun and hours passed without any sign of the ball of ice and rock. Shortly after many had declared ISON dead, a glimmer of hope appeared in the form of a bright v shaped cloud of dust that was heading away from the sun.
Many though that a fraction of ISON may have survived and that just a rocky nucleus was all that was left. If true, ISON could have flared back up to naked eye visibility once it was far enough away from the sun to not be out-shown by the suns glare. Unfortunately what we though was a solid intact nucleus turned out to be fragments of the comet that were rapidly disintegrating, and new images have shown that the bright dust trail left by ISON's remains have began to fade into obscurity. As of today, the official word appears to be that ISON has met its fate and was mostly vaporized upon its entry into the Suns coronasphere.
Not all is lost though as ISON has provided enough data to keep scientist busy for decades. The images we have of ISON approaching perihelion and of its remnants leaving the Sun will provide valuable insight into how comets react during approach to the sun, and how the Suns magnetosphere affects the comets trajectory. Additionally, since ISON was on its first trip into the solar system from the Oort Cloud, we could see a spectacular meteor shower when the Earth passes through ISON's debris field next year.