ScienceFriday: Hubble captures breathtaking image of Comet ISON, one of the greatest comets humans will ever see
Hubble captures stunning image of Comet ISON.
Published Fri, Jul 26 2013 3:33 PM CDT
|
Updated Tue, Nov 3 2020 12:21 PM CST
It has been several months since I have made a Science Friday post here at TweakTown and I have been wanting to bring it back. So many of you have mentioned how much you enjoyed them, so I am going to attempt to make 1-2 science related posts every Friday. Today, NASA released a breathtaking image of Comet ISON taken with the Hubble Space Telescope back on April 30. The image shows ISON streaking through our solar system with many stars and faint galaxies in the background.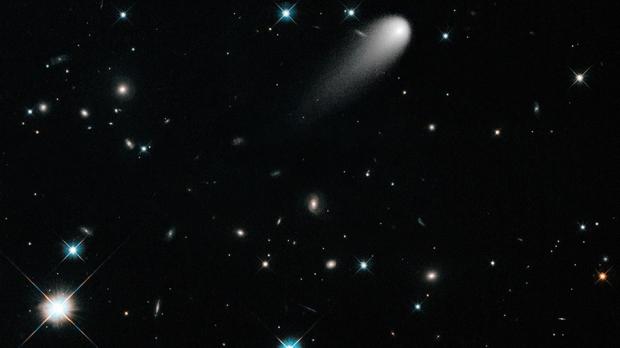 The image is comprised of five photos that the researchers at NASA stitched together to form such a wide field of view. "The result is part science, part art," Josh Sokol of the Space Telescope Science Institute in Baltimore, Md., which operates Hubble, wrote in a blog post last week. "It's a simulation of what our eyes, with their ability to dynamically adjust to brighter and fainter objects, would see if we could look up at the heavens with the resolution of Hubble."
Comet ISON, is a sungrazing comet discovered on September 21, 2012, by Vitali Nevski and Artyom Novichonok. The discovery was made using a 0.4 meter--16 in--reflecting telescope. As the comet warms as it moves closer to the sun, its rate of sublimation (a process similar to evaporation in which solid matter transitions directly into gas) will increase. The comet will get brighter and its tail will grow longer. The comet is predicted to reach naked-eye visibility in November.
Related Tags