Earlier I reported that trading had been suspended on OCZ's stock, and it appears that there may be more to the story than just having its stock trading halted. Unnamed sources have told TweakTown that Toshiba has quietly completed its acquisition of OCZ's assets as the company prepares to file for bankruptcy and that the companies closed escrow on most of OCZ's assets yesterday.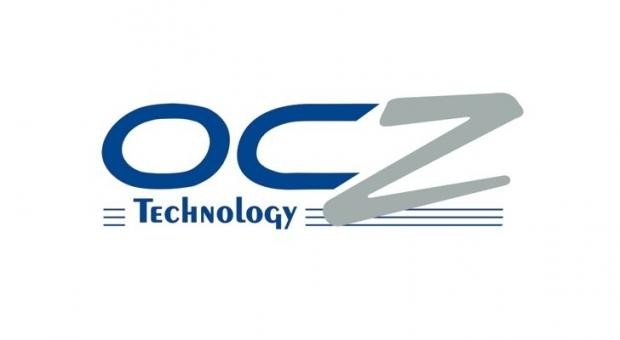 In a call just weeks ago OCZ's CEO, Ralph Schmitt, stated that in-house manufacturing was halted and a third-party had picked up manufacturing. Weeks later TweakTown reported from the rumor mill that OCZ and Toshiba were talking. Last week Storage Review displayed a picture of an OCZ Indilinx Barefoot 3 controller in a Panasonic SSD. Panasonic is another company based in Japan and has close ties to Toshiba. Panasonic wouldn't release a new SSD with a controller from a company headed for bankruptcy without some inside knowledge.
Now the events over the last 30 days make perfect sense. When a major investor pulled out due to OCZ's cash burn issues, Toshiba swooped in and made the company an offer it could not refuse. This explains the lack of statements made to investors when things started turning south.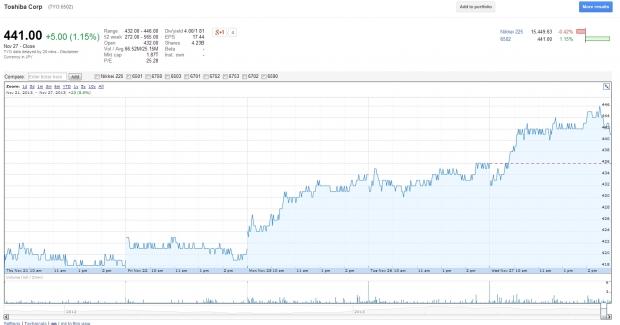 In the past 5 days Toshiba stock has increased roughly $20 and nearly $5 today alone. I for one do not think that this is a mere coincidence as the stock remained relatively flat for almost a month. Toshiba has a massive manufacturing facility that produces several of the consumer SSDs on the market that are re-branded and sold to third parties. With close ties to Panasonic, and other industry leaders, this could be the biggest storage acquisition of the year.
Below is a copy of the full announcement from OCZ.
SAN JOSE, CA -- (Marketwired) -- 11/27/13 -- OCZ Technology Group, Inc. (NASDAQ: OCZ), a leading provider of high-performance solid state drives (SSDs) for computing devices and systems, today announced that on November 25, 2013, it received notices that Hercules Technology Growth Capital, Inc. ("Hercules") took exclusive control of the Company's depository accounts at Silicon Valley Bank and Wells Fargo Bank, National Association. As set forth in the Company's recent SEC filings, Hercules and the Company are parties to a loan and security agreement. As previously reported, the Company is not in compliance with certain of the operating ratios and covenants in the loan agreement. As a result of such action and pursuant to Hercules' written instruction, the depository institutions disbursed the cash in the Company's respective accounts to accounts under the control of Hercules.

The Company has received an offer from Toshiba Corporation to acquire substantially all of the Company's assets in a bankruptcy proceeding. The parties have substantially completed negotiations on an asset purchase agreement and OCZ believes that all the material terms have been agreed to. The agreement is subject to various conditions: the preservation of the value of the business, including the retention of employees, the negotiation and execution of definitive documentation, the filing of bankruptcy petitions by the Company and certain of its subsidiaries, Toshiba's offer being accepted by the bankruptcy court as the highest and best offer under the circumstances after an auction process conducted under the relevant provisions of the United States Bankruptcy Code, and other customary closing conditions. The Company expects to file a petition for bankruptcy shortly after completing final documentation with Toshiba and Hercules, and to conduct the court-supervised auction process to attempt to maximize the value of the Company's assets and operations in an orderly process. More details will become available when the Company files its petition for bankruptcy.

If the Company is not able to agree to final documentation with Toshiba, the Company expects to imminently file a petition for bankruptcy and liquidate.

Forward-Looking Statements

Certain statements in this release relate to future events and expectations and as such constitute forward-looking statements involving known and unknown factors that may cause actual results of OCZ Technology Group, Inc. to be different from those expressed or implied in the forward-looking statements. In this context, words such as "will," "would," "expect," "anticipate," "should" or other similar words and phrases often identify forward-looking statements made on behalf of OCZ. It is important to note that actual results of OCZ may differ materially from those described or implied in such forward-looking statements based on a number of factors and uncertainties, including, but not limited to successfully completing definitive documentation with Toshiba and Hercules, subject to the company's ability to preserve value and retain employees, a successful conclusion of the court-supervised auction process and the Other general economic, business and financing conditions and factors are described in more detail in "Item 1A -- Risk Factors" in Part I in OCZ's Annual Report on Form 10-K filed with the SEC on October 7, 2013, and statements made in other subsequent filings. The filing is available both at www.sec.gov as well as via OCZ's website at www.ocz.com. OCZ does not undertake to update its forward-looking statements.