Star Citizen breaks through $30 million of funding, will it stop? No
Star Citizen smashes through the $30 million barrier, next stop, $31 million - which shouldn't take long.

Published Sun, Nov 24 2013 10:39 PM CST
|
Updated Tue, Nov 3 2020 12:19 PM CST
Star Citizen is simply unstoppable right now - with its original $500,000 goal on Kickstarter now ballooning out to an amazing $30 million+. At the time of writing, it had received $30,374,530 of funding from 311,504 Star Citizens.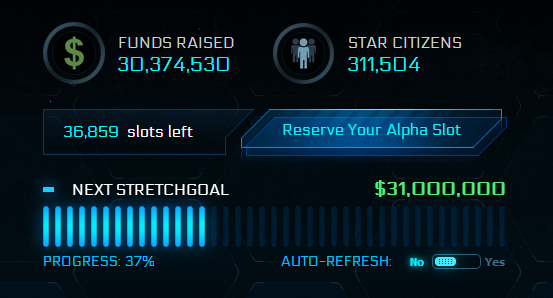 The next stretch goal is $31 million, and at this rate, it should hit that goal within the next day or two. People are excited about this game, as the premise does sound truly amazing, but when will this funding explosion stop? At the rate it's going, it will hit $40 million by the end of year. I've backed it, and I'm enjoying my hangar right now, and boy does it look glorious at 7860x1440.
I'm going to be the first to say it: but if things don't stop with this funding, it will be the first non-AAA (as in, developed/funded by a huge company like EA, Activision, Microsoft or Sony) to reach $100 million - you heard it here at TweakTown first, folks!
Related Tags