Battlefield 4 makes better use of 8 threaded CPUs, uses more GPU too
Battlefield 4 uses over half of the threads on a Core i7 4770K CPU, nearly maxes out GTX 780 SLI too.

Published Tue, Oct 1 2013 5:16 AM CDT
|
Updated Tue, Nov 3 2020 12:20 PM CST
Our Tweakipedia test bed is getting a workout tonight, benching (and playing of course) Battlefield 4. As you can see from the screenshot below, our Core i7 4770K is being used at 61%, and ranges up to around 70-75% at times, depending on what is going on.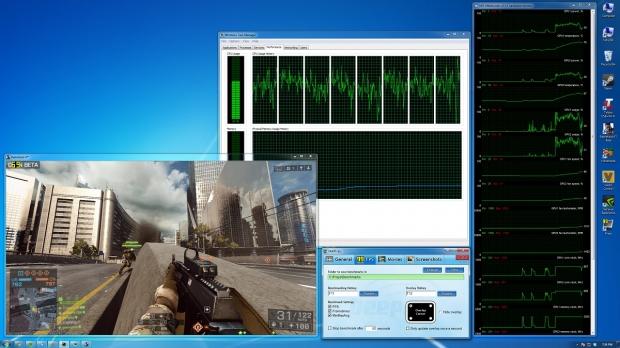 As for our NVIDIA GeForce GTX 780 SLI setup, it is pretty much maxing it out with around 90% average utilization per GPU at 2560x1440 on our ASUS PB278Q monitor. We're going to do some more testing on Battlefield 4, where we'll test out some results at 7860x1440, which should really stress this system out.
We should have a look at the Battlefield 4 performance in an article in the next day or so, so stay tuned, folks! Oh BTW, it's pretty awesome so far! It does feel more "consoley" in the game itself, but the menus and field of view, etc are all improved. You can crank it right up to 120 degrees, which is quite the surprise from DICE.
Related Tags