Earlier today, SteelSeries introduced the world to its latest flagship headset, the Siberia Elite Gaming Headset. SteelSeries says that the new Siberia Elite features the high-quality audio drivers and is equipped with Dolby technology that creates a realistic 7.1 virtual surround sound. The headset will be available for pre-order in September and will retail for $199.99.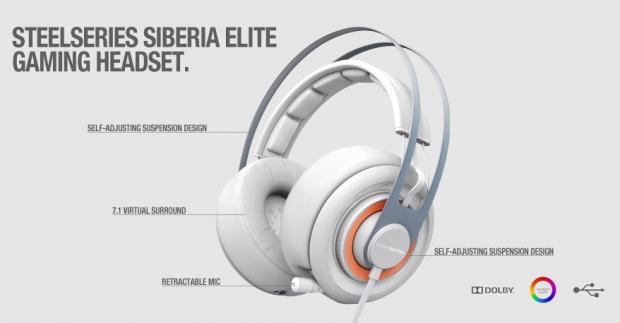 The new headset's design features a self-adjusting suspension system that is anchored to a still arc. The headset's ear cups feature RGB illuminated dials that are capable of reproducing 16.8 million color options. These dials control the Siberia Elite's audio and microphone, while the company's SteelSeries Engine 3 software ushers in new levels of customization and profile generation.
"First introduced in 2004, SteelSeries' Siberia headset brought together amazing audio quality with first-ever features like a self-adjusting suspension design and circumaural earcups to the market. The headset quickly became popular amongst gamers with its outstanding quality and performance as well as caught the attention of DJ's and musicians, appearing in popular videos and in places that expanded even beyond our core gaming audience," said Bruce Hawver, SteelSeries CEO. "Siberia is recognized today as one of the fastest growing and highly rated line of headsets by consumers from around the globe. Expanding upon this legacy, today we introduce the next level of Siberia audio combining the acclaimed features, which makes the Siberia brand successful, with the newest and highest-quality audio technology and software that can truly be categorized as Elite."