During the Gamescom event being held in Germany this week, ROCCAT Studios announced the addition of a new high-quality gaming headset to its lineup of gaming peripherals. The new ROCCAT Kave XTD 5.1 digital gaming headset is the successor to ROCCAT's Kave 5.1.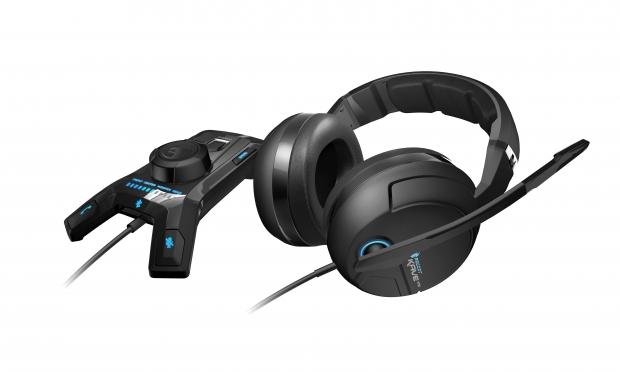 The company says that the new Kave XTD is based on community and customer feedback and that the new headset builds on foundations laid by the original headset by improving existing features and integrating completely new innovations of its own. The headset features a fully-equipped desktop remote that integrates a built-in premium 5.1 sound card. Additionally, ROCCAT Smart Link technology is built-in. This technology lets the user pair their smartphone to the remote via Bluetooth. This new feature allows users to make and receive calls through the headset while gaming.
The remote also features built-in 5.1 speaker ports, which allow users to hook up their existing sound systems and easily toggle between the headset and speaker output without having to change settings in the PC software controls. ROCCAT says that the Kave XTD 5.1 provides a true, rich 5.1 surround sound. The headset features three driver units per ear cup, which are aligned at a 12 degree angle. This allows the headset to deliver an immersive and crisp sound while weighing 25 percent less than its predecessor.
Roccat has spent many hours developing this new headset and has listened to customer suggestions and has built things to be more comfortable to wear during extended hours of gaming. The microphone boom has been redesigned and is now fully detachable, while still retaining smart details like the mute LED, and features new components that improve reliability as well as sound quality. The ROCCAT Kave XTD 5.1 will be available this November for $169.99.