Today, Corsair announced their newest addition in their SSD lineup. The new Force LS series of SSDs are powered by the Phison SATA 6Gbps controller, which makes this the first SSD series from Corsair to not be based on an LSI SandForce SF-2200 controller.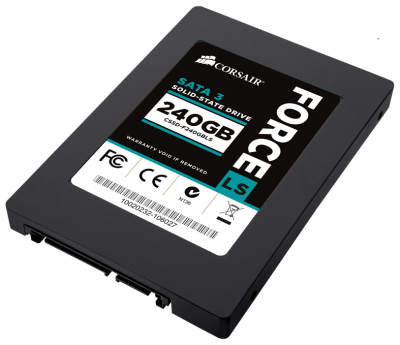 Corsair says that the Force LS series provides solid performance at a great value while maintaining reliable and efficient solid state storage for any PC or notebook with a 2.5-inch drive bay. Available in capacities ranging from 60GB to 240GB, each of the new SSDs maintain a 7mm thick footprint, which makes it an ideal solution for a replacement drive in a desktop PC or notebook.
The company says that the drives are able to attain read speeds of 555MB/s. Write speeds are a little lower at 535MB/s. Additionally, the drives are backwards compatible with SATA 1 and SATA 2 for maximum compatibility.
Corsair notes that the Force LS series supports TRIM, garbage collection, SMART functionality, and feature built-in advanced dynamic and static wear-leveling algorithms. The 60GB model retails at an MSRP of $69.99 and the 120GB retailing for $109.99. The 240GB SSD will set customers back $199.99.