AMD slashes price on its FX-9590 by $500, bringing it down to $400
5GHz just got easier than ever after AMD cuts FX-9590 prices by $500.
Published Wed, Aug 21 2013 4:04 AM CDT
|
Updated Tue, Nov 3 2020 12:21 PM CST
Let's face it: everyone loves CPUs that are clocked to astronomical speeds. It is the reason many of us run enthusiast grade unlocked processors that we push to the limits. When AMD first announced its 5GHz monster--the FX-9590--I'll have to admit I was a little speechless, as was most of the tech world, but not for the fact that it was able to Turbo to 5GHz, but for the fact that AMD priced it at $900.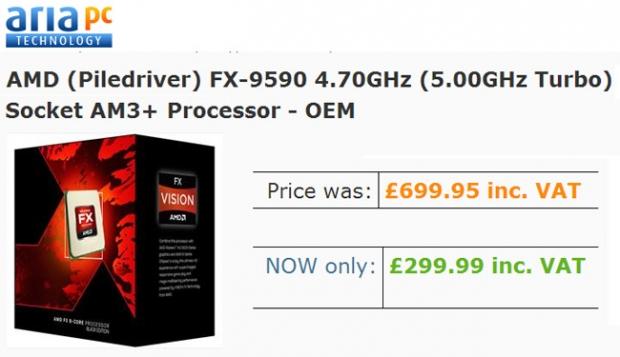 Generally known for their low-cost, high-performance CPUs, that $900 price tag shocked many AMD enthusiasts. In the professional world, many reviewers and industry analysts cried foul saying that a $900 price tag would never work. AMD has apparently heard those statements and cries loud and clear and today slashed the price of the FX-9590 by $500, making it cost just a mere $400.
Related Tags