The man behind PayPal, Tesla and SpaceX, Elon Musk, has just unveiled his plans for the "Hyperloop" transport system that he one day hopes to see passengers take from Los Angeles to San Francisco, faster than the speed of sound.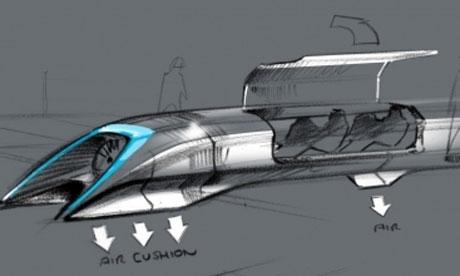 Musk unveiled a 57-page PDF, which you can read here, which explains that Hyperloop would transport people and cars between cities in aluminum pods that travel up to 800 miles per hour, inside elevated tubes. Musk said he was inspired by the pneumatic tubes that transport mail around some buildings as his inspiration for Hyperloop.
Musk is a big fan of transport, using his billions of dollars he's made from his various ventures such as PayPal to develop the electric car company, Tesla. He didn't stop there, as he also spent money on a private spaceflight company, SpaceX. Musk has said that the Hyperloop would be a "cross between a Concorde and a railgun and an air hockey table."
The Tesla founder has said that the Hyperloop would be the fifth mode of mass transport, after planes, trains, cars and boats. Musk has said that he won't build Hyperloop himself, but he was "tempted" to construct a demonstration model. Musk said that the tubes would elevated on columns 50 to 100 yards apart that would run alongside California's Interstate 5 highway.
You can read more on the awesome Hyperloop, here.