Newlyweds to begin 'Life on Bitcoin' documentary, will live on the digital currency exclusively for three months in the US
For three months, a newlywed couple will live exclusively on Bitcoin.

Published Tue, Jul 23 2013 4:27 AM CDT
|
Updated Tue, Nov 3 2020 12:21 PM CST
I still haven't gotten into Bitcoin myself, mainly because I live in a country that is behind in technology: Australia. But, a couple will be living in Utah after spending ten days on a tropical honeymoon in Costa Rica, purely on Bitcoin.
It's a tough challenge, a pure 90-day challenge dubbed "Married... With Bitcoin." Austin Craig and Beccy Bingham have a tough road ahead of them, with Craig saying to Forbes during an interview: "The goal is to find out how developed the Bitcoin ecosystem is, what needs to change, and how easy it is to use, understand, and explain."
The three-month challenge is being documented in a number of ways - Facebook, Twitter, blogging and YouTube clips as well as a documentary called "Life on Bitcoin." They announced their plans last month on crowdfunding site Kickstarter, where they raised over $72,000 as well as 82 Bitcoins, which are valued at the current valuation of $7,000 or so.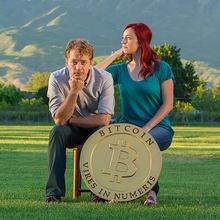 The newlyweds will be doing everything on the digital, non-central bank controlled currency, such as getting salaries paid, paying rent, buying groceries, gas, eating, travelling and entertainment, all on the digital currency. Austin adds: "It'll be stressful. We're anticipating that. We're hoping newlyweddedness overcomes that."
Related Tags