Today, Digg disclosed the results of a survey it ran last week. The survey contained questions trying to gauge user interest in various features that Digg might implement in a replacement for Google Reader. The survey also asked if a respondent would be willing to pay for the service.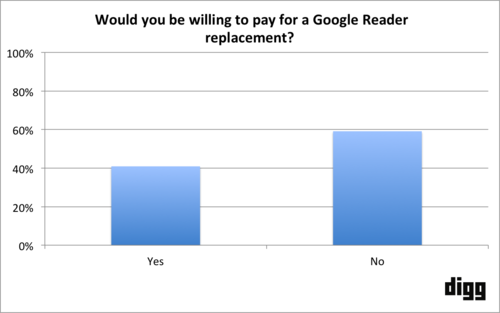 As you can see above, 40 percent of respondents said they would be willing to pay for a Google Reader replacement. This then makes me ask, why doesn't Google charge and continue their own reader? As seen in the graph below, many users use E-mail, Facebook, Twitter, and Google+ to share links. Digg plans to include "seemless sharing" to all of the services seen below.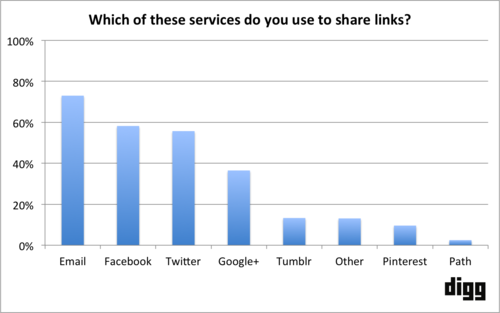 Free products on the Internet don't have a great track record. They tend to disappear, leaving users in a lurch. We need to build a product that people can rely on and trust will always be there for them. We're not totally sure how pricing will work, but we know that we'd like our users to be our customers, not our product. So when we asked survey participants whether or not they would be willing to pay, we were pleased to see that a majority said yes.
From the quote above, you can see that it appears Digg is leaning towards a paid product, but this causes them to lose out on 60 percent of those who responded to the survey. We should know more as we approach the beta in June.