Google has released a second update for Google Drive just shortly after the one released earlier today. This latest update will allow all of your Google Drive documents to sync in the background so that you don't have to plan ahead. With this new feature, anytime you're offline, you can simply head to drive.Google.com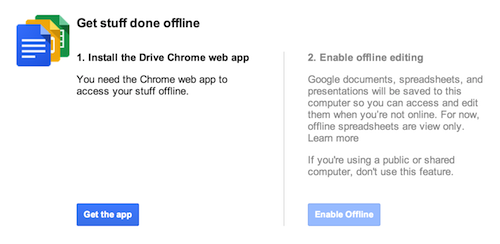 Internet outages and long plane rides shouldn't prevent you from working in Google Drive. Set up offline access so that the next time you're offline you'll still be able to view Google documents, spreadsheets, and presentations, shuffle folders around, and edit files stored in your Google Drive folder.
Click More on the left-hand side of the screen.

Select Offline Docs.

Setting up offline access is a two-step process. First, click the blue button that says Get the app. If you already have the app installed, you won't need to complete this step.

You'll be taken to the Chrome web store. Click Add to Chrome in the upper-right corner of the browser window.

Once the app is installed, you'll be taken to a Chrome page with the Google Drive app icon. To return to Drive, click the Google Drive icon.

On the right side of the dialog on the Offline Docs page, click the blue button that says Enable offline.
This is a feature that is already present in Chrome OS. Google may one day bring this feature to other browsers, though it's not clear if they have plans to do so as of right now.