AMD are back yet again with the monster of Radeon GPUs, the dual-GCN rocking Radeon HD 7990. The Radeon HD 7990 features a number-busting 8.6 billion (that's with a B) transistors, 4096 stream processors and a total of 8.2 TLOPS of compute power.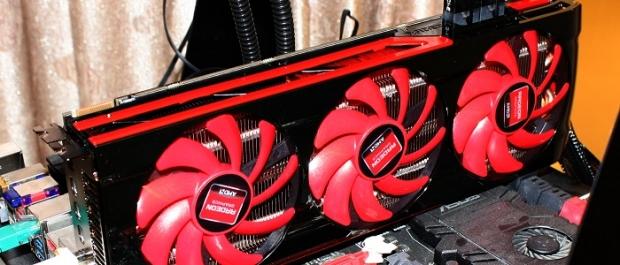 6GB of GDDR5 is baked onto the HD 7990, four miniDisplayPort connectors and a dual-link DVI connector back it up to provide five monitor support through AMD's EyeFinity technology. There's three fans on the front of the HD 7990 to keep those two GraphicsCore Next GPUs cool, which it does so without making too much noise at all - 37.8dBA compared to NVIDIA's GeForce GTX 690 (NVIDIA's dual GPU) which cranks along at 47.5dBA (tests used with sound pressure at 50cm running Furmark).
AMD's ZeroCore power technology is at play, where it switches off the second GPU when not in use to save power (and heat). You can check out our own review on the Radeon HD 7990 right here.