Nimbus Data, a pioneer in the all-flash storage market, announced a major upgrade to their product line with the update of their HALO management system. This new program injects Advanced Analytics, Open API, and Mobile Apps into their award winning storage operating system.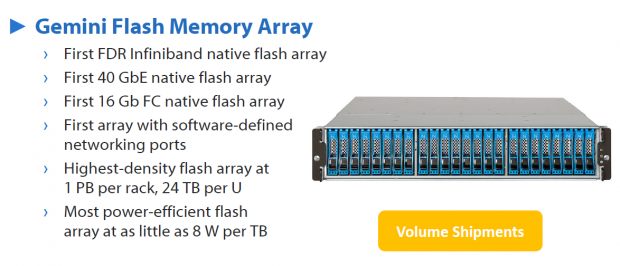 For those not familiar with Nimbus Data, they offer one of the world's most resilient and future-proof all-flash SSD products on the market. Nimbus Data has experienced huge growth over the last few years, with 415% year-over-year growth in 2012, and plans to match that level of growth in 2013. They are also profitable, which is a rare quality in many flash start ups today.
Their Gemini Flash Memory Array is a monster flash array that is available with up to 48 TB of flash storage in a 2U system. This array features over a million IOPS in a 2U rack, and is deployed into a number of uses, primarily focusing on database and virtualized environments. The system offers up plenty of connectivity options, with native FDR Infiniband, 40GBe and 16 GB FC.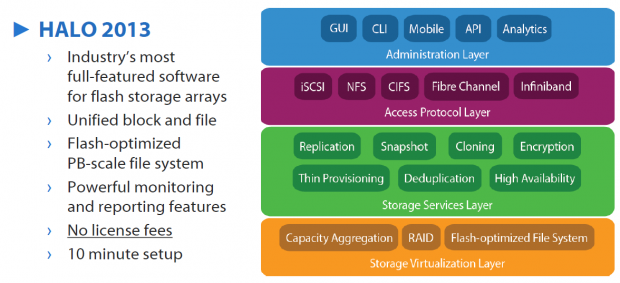 These High-Availability devices are essentially unified SAN-NAS racks with Ethernet, FC, and Infiniband connectivity. Nimbus products also feature class-leading power efficiency weighing in at 8 Watts per TB. Power consumption is one of the largest ongoing expenditures, often costing an average of four times the amount of the initial deployment cost in enterprise environments, and this makes the power efficiency of these arrays a huge selling point.
Adding in a comprehensive API update, free for current customers, provides a level of manageability unmatched by competitors. HALO 2013 is a REST-Based API that allows Nimbus administrators to have full control of all features and statistics within the operating system. The system provides analytics updates every ten seconds, which provides a level of granularity not offered in many current products.
Another key advantage of the HALO 2013 system is that it features both block and file, and they are actually the only all flash storage company to offer a product with that functionality.
The new API also allows for the use of mobile apps, available in iTunes and Google stores under the Nimbus Mobile tag, to manage the system. This provides administrators yet another portal for flexible management of the HALO 2013 system.
One of the greatest advantages of HALO 2013 is that it is free to use for all of Nimbus Data customers. This is due to their great business model of charging all costs up-front as part of the initial acquisition, and no revolving renewal fees.